Ireland is known for its high quality and fresh food ingredients and Irish meals are not only nutritious but hearty too. So why not add a bit of Irish flavour to your day with these three dishes, courtesy of Bord Bia, the Irish Food Board.
Not only are they deliciously tasty – as they should be – and simple to make, they are also healthy options for you – just what is needed after the indulgent festive season! Try the Porridge as a healthy breakfast; enjoy the mushrooms with a salad for lunch and savour the fabulous flavours of grass-fed beef stir-fry for dinner.
Perfect Porridge
Warming and welcoming, this is the perfect breakfast. A steaming bowl of creamy porridge with fruits, and nuts drizzled with runny honey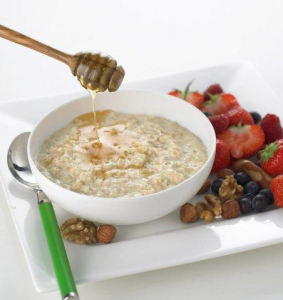 Serves 2
Ingredients:
Flahavan's Irish Porridge Oats
fresh strawberries, raspberries, blueberries
nut kernels
2 tbsp Mileeven runny honey
Make porridge according to instructions on the pack. Serve with mixed berries and fruits – bananas – nuts – or anything that takes your fancy. Finish with a generous drizzle of runny honey.
Quickest Stuffed Crozier Blue Roasted Field Mushrooms With Spinach
Big mushrooms are essential for this dish. Try to select slightly deeper mushrooms with curled up edges so that they have plenty of space for the filling.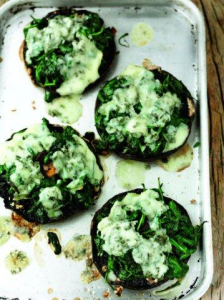 Serves 4
Ingredients:
8 evenly-sized large field mushrooms (each about 10cm in diameter), wiped clean
The leaves from 2 large thyme leaves, chopped
3 garlic cloves, 2 finely chopped, 1 left whole
4 tbsp extra virgin olive oil, plus extra to serve
2 tbsp freshly squeezed lemon juice
15g butter
500g spinach, washed and large stalks removed
150g Crozier Blue cheese, thinly sliced
Salt and freshly ground black pepper
Method:
Preheat the oven to 200C/Gas Mark 6. Place the mushrooms in a shallow roasting tin and sprinkle with the thyme, garlic, olive oil and lemon juice. Roast for 10 minutes.
Meanwhile, heat the butter in a large pan, add the spinach and stir-fry it over a high heat until it wilts down into the bottom of the pan. Tip into a colander and press out the excess liquid. Season to taste with salt and pepper.
Remove the mushrooms from the oven and top with the spinach and sliced Crozier blue. Return to the oven for 3-4 minutes, until the cheese has just melted.
Serve with a salad.
Crozier Blue is a ewes milk Irish farmhouse cheese made in Tipperary using vegetarian rennet.
Easy Beef Stir Fry
Colourful, zingingly tasty stir fry of tender, grass-fed, juicy rump steak, with baby corn, yellow and green peppers with beans, spring onions and sugar snap peas, flavoured with chilli, ginger and garlic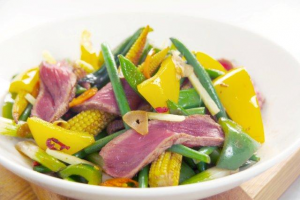 Serves 4
Ingredients:
225g/8oz thick piece of grass-fed rump or sirloin steak
2 cloves garlic, crushed to a paste
2cm/1in piece ginger, peeled and grated to a paste
3 tbsp oil
2 cloves garlic, peeled and sliced
5cm/2in piece ginger, peeled and in matchsticks
1 red and 1 orange chilli seeded and chopped
Pinch caster sugar
100g/4oz baby corn
1 each green and yellow peppers, seeded and in chunks
75g/3oz thin French beans, trimmed
100g/4oz baby sugar snap peas, trimmed
1 tbsp Chinese rice wine
1 tbsp light soy sauce
Method:
First cook the grass-fed beef. Rub on both sides and with garlic and ginger and leave for 10 minutes to absorb flavours. Heat 1 tbsp oil in a wok and fry steak over high heat on both sides to crust – but leaving meat pink in the middle. Leave to rest while the vegetables are cooked.
TrHeat remaining oil in the wok and fry garlic, ginger and chilli for around 20 seconds with a pinch of sugar. Add corn and peppers and stir fry around until they begin to soften. Add beans and sugar snap peas and continue stir frying. Pour over Chinese rice wine and soy sauce and bubble for 3 minutes more. Add sliced steak and toss around to heat through. Serve immediately.