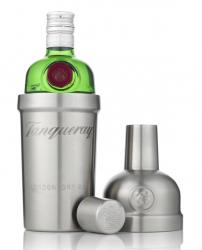 The makers of Tanqueray gin have created a limited edition Christmas gift pack, a perfect gift for the cocktail enthusiast in your life and the ideal accessory for entertaining friends at home.
Inspired by the design of Tanqueray gin's bottle shape, which itself is based on a classic three piece cocktail shaker, the Christmas gift pack makes a great addition to anyone's drinks cabinet. A bottle of Tanqueray gin is enclosed in a high quality, stainless steel, fully functional three piece shaker, embossed with the Tanqueray seal and the Pineapple crest.
Tanqueray gin's complex combination of refreshing juniper, peppery coriander and aromatic angelica gives it a great fragrant, slightly sweet taste that is unique to the brand. It also has a lovely syrupy mouth-coating feel that is ideal for a dry Martini, whether served with a twist of lemon or olives. Tanqueray's distinctive flavour comes through in more complex cocktails or when served, perhaps as most people do, with tonic.
Priced at £17.99, the Tanqueray gin Christmas gift pack is available from Selfridges and Harvey Nichols and makes a very affordable gift for the gin drinker in your life or for anyone who likes to experiment with cocktails.
And to get those novice mixologists started they might try one of the following two delightful cocktail recipes, which can be mixed perfectly using the Tanqueray gift pack.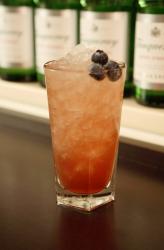 The Bramble Bush (2 units alcohol)
Ingredients
35ml Tanqueray.
25ml Crème de Mure
20ml lemon juice
15ml sugar syrup
Champagne
Method
Combine all but the Champagne in a Boston Shaker, fill with ice and shake briskly. Strain the mixture into a highball glass filled with crushed ice and top with Champagne. Garnish with blackberries.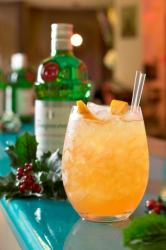 Christmas Orange Delight (1.8 units alcohol)
Ingredients
35 ml Tanqueray
25 ml apple juice
10 ml apple liqueur
1 spoon of brown sugar
1 quarter of grapefruit
1 piece of ginger
Method
In a glass, grate the ginger and mix the grapefruit with brown sugar. Pour into a cocktail shaker with the other ingredients and shake well. Stain and serve over ice in a long glass.