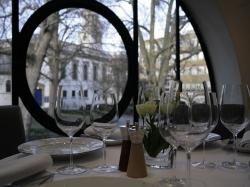 Are you a white truffle kind of person or does black float your boat? Either way right now you're spoilt for choice as the odiferous tuber is in London's restaurants for a short while
We already tried white truffle at Refettorio where Locando Locatelli is serving it in its simplest form; added lavishly to pasta, immersed in risotto and generously stirred into creamy mashed potato. It's the Italian way – simple is best.
Over at The Orrery however a certain savoir-faire is in evidence as chef Igor Tymchyshyn ex of The Mirabelle uses black truffle as just one more ingredient in fairly complex dishes to add gravitas to the plate, and obviously a certain weight to the bill.
What immediately earns a good mark in my margin is that he has created two degustation menus – vegetarian and non-vegetarian. All too often in French cuisine, les pauvres veggies have to make do with dumbed down versions of the meat menu. Not here. In fact the veggie menu has a lot of interest in it but, carnivore that I continue to be, meat has the edge. J, who would cheerfully eat anything with truffles in or on it, including his own socks, agrees to try one of the veggie dishes for us.
Orrery's first floor location with its pleasant view over the churchyard opposite has always made it feel as if it's located out of London, but the cooking is always capital style. Andre Garret was Head Chef here before being poached (sic) by the Galvins to head up Windows at the Hilton and it's always reliable. Today the restaurant continues to maintain its popularity, no mean feat when even burger restaurants are being hilariously bigged up by a new younger breed of undiscerning diner.
Here, after an amusing amuse of shocking green, Igor kicks of the non-veg menu with roast scallops, butternut squash and truffle velouté. This is a dish that would work well without the truffle and, truth be told, the truffle loses out a bit to the punchy squash. The notes are there and some of the aroma too, so it may be a case of a certain stinginess in the kitchen. The trubble with truffle of course is that it can all too easily dominate a dish to the point of surfeit, so Igor may have been playing it safe. The scallop is large, whoever hand-dived that needed two hands to bring it to the surface, but is perfectly cooked with its caramelisation contrasting with the earthy smooth pumpkin and the foamy veloute.
Foie gras comes with the truffle dusted on top like a layer of charcoal and the whole dish is laid out rather like a dessert with clean oblong lines. Here the subtlety of the black truffle works well with the foie gras, giving a creaminess on the tongue and a tickle on the nose. I can't side with the foie gras haters by the way, not least because I think battery hen farming is far crueler and more widespread, but in any case I like the stuff far too much. This is a good dish.
And so is the next one. Turbot, cauliflower, Champagne truffle cappuccino. The fish is absolutely, totally, desperately lovely. It's as dense as a Royal Head of Security and is packed with its own honest flavour and nothing added or taken away The well-wrung out spinach underneath works well with it, adding iron to the soul, if not the sole and, while I'm not happy stylistically with foams in 2010, for getting the truffle to the nose and taste buds it's still hard to beat. Very clean cooking that backs up to the stomach's loading bay, smartly delivers the goods and departs with a cheery wave and a parp on the horn.
At the next course we come to a fork in our road. J has Beetroot salad with shaved truffle while I stick with the Tournedos Rossini. J's beetroot salad surprises us both by being very good indeed, the earthy beetroot make a surprise high five with the truffle to make you think of the soil in a very good way. Tournedos Roussini is of course classic black truffle territory and doesn't disappoint, even if it doesn't actually set my trousers on fire. Good steak, good truffle, my goodness is that the time?
We have to get back to the office but share the Truffle Brie de Meaux at an £11 supplement. It was a mistake; Brie De Meaux is alreadyy rich enough and sandwiching a layer of truffle into it makes it too much probably for even Michael Winner to get down happily. We fail to eat it all.
However the final dish, Gunaja chocolate, is a real triumph in reengaging the taste buds. Little profiteroles have truffle inside them and are brilliant taste bombs. The Gunaja chocolate is a blend of beans from that eponymous island with an initial adult bitterness that smoothes out on the palette and has. as they say, good length.
The Orrery delivers a proper French assault on the black truffle and comes away the winner. Whether you prefer being truffled up their way or the Italian way is a matter of personal preference, but the price is right and the offer of a vegetarian truffle tasting menu is pretty unique. Igor Tymchyshyn is looking to get Orrery's Michelin Star back and with this kind of classic Inspector-Pleasing cooking he should have a good chance.