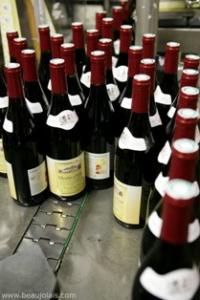 I have never been a real fan of Beaujolais, my experience has mainly been the race each November to get and drink your first glass of that year's vintage of Beaujolais Nouveau as soon after its release as possible. It has in successive years struck me as light and thin, and with my preference being for bigger fuller bodied, voluptuous reds, there is an obvious mismatch. So having been invited to 'Fabuleux Beaujolais 2009' in Paris, a tasting of wines from selected producers brought together from its disparate parts the Beaujolais Region, I accepted the invitation with some trepidation. How fortunate that I did, my eyes were opened to the great diversity of the produce from this part of France.
After a pleasant lunch at Cafe Tournon, setting me up for the task, I was escorted along to Hotel St-James & Albany in the Rue de Rivoli to sample what I thought were going to be a whole range of light, slightly fruity, dry reds.
Having not knowingly been much of a Beaujolais drinker, I had not been aware that the region incorporated more than a dozen individual wine producing areas that come under the Beaujolais regional umbrella. Beaujolais Villages for example is comprised of several winemaking enclaves dotted around the region, but I was surprised to learn that Brouilly, Cote de Brouilly, Fleurie, Juliennas and Morgon – all names I was familiar with – were also Beaujolais regional wines. I also learned that there were a number of regional producers making some very good white Beaujolias.
At this tasting I was able to sample some sixty 2009 vintage Beaujolais. Having overcome my aversion to spitting out in public – a case of having to, had I not done so I would have been flat on my back after tasting less than half the wines that were available; and of course, if everyone else is doing it, why not? While many of the wines at this tasting had similar characteristics, principally a fruity dry acidity, in some, soft red fruit and cherry notes come through well on the palate. And when it comes to white Beaujolais, as I say a bit of a revelation to me, I was impressed by some vibrantly fruity flavours and a good refreshing sharp dry acidity on the palate. A number of the wines stood out for me as worthy of special note and I have highlighted these below, together with contact details of suppliers or distributors.

There were five wines that I particularly liked; the first of these was the Cave Cooperative Beaujolais de Saint Laurent d'Oingt, a white that had a great fruity white grape acidity, and a good full flavour with a nice dry finish. Sadly the producers are still seeking a distributor in this country, but it was excellent and I hope it is available here soon. The Beaujolaise, Coeur de Vendage, Domaine du Vissoux had a bright freshness with cherry and soft fruit flavours on the palate and a good acidic dry edge in its finish. It is imported by Enotria (020 8961 4411). The Beaujolais, Henry Fessy, had great strawberry and cherry flavours bursting in the mouth, good clean vibrant flavours with a dry acidic finish. This wine can be obtained from four retailers; Forth Wines, Flourish and Prosper, Planet of the Grapes and Taurus Wines, and will retail at £8.99 – £10.99 per bottle. The Morgon, Pellerin La Famille des Grand Vins was a big bold fruity number, forest fruits and red berry flavours on the palate and a soft acidic edge in its finish, this is imported by Boisset UK (020 7316 6336). And the last of my five favourites, the Moulin-a-Vent, Chateau des Jaques, which had big black cherry notes, a great fruity mouthful with an acidic dry finish and this is available from The Wine Society at £13.99.
Others to look out for here are: Beaujolais, Chateau de Pizay, which had round fruity strawberry and plum notes with a dryish acidic finish, available from Le Bon Vin at £8.99 and the Cuvee Bel Air, EARL Caoudert Appert, a big fruity mouthful with a dry edge and some peppery heat in its finish, available from Stone, Vine and Sun at £10.75. There were three that I liked that have yet to have distributors in this country, they were: Beaujolais Villages, Georges Duboeuf, which had a good fresh red fruit acidity and a dry finish; Morgon, Domaine Marcel Lapierre, which had a particularly fragrant nose and great berry fruits on the palate with a good fresh acidity and the Juliennas, Clos de Haute Combe which had fresh strawberry notes and a tangy finish with a dry edge. All of these are worth keeping an eye out for – here or in France.
2009 is widely recognised as a very good year for Beaujolais and a number of the wines I tasted would benefit from laying down for a few years to mellow and mature, but those I have mentioned above were already excellent to drink and although they might still improve, the difficulty would be not to drink them once you have them in your possession.
At the tasting we were also invited to attend a talk on the benefits and attractions that the region has to offer visitors, its beautiful terrain, scenery and its character.
So, having finished the tasting and sat through the talk, I set off home, tongue particularly black from swilling some fifty or more red wines around my mouth, teeth grey and fingers and thumb stained from the drips down the side of the glass – a delightful picture, I know. I left the tasting suitably impressed that the Beaujolias region has something more to offer than the light fruity acidic wines that many race to drink every November. There are many good, medium to fuller bodied wines each with subtle soft and voluptuous characteristics. Exploring what wines this region has to offer could be fun. It's just a damn shame I couldn't swallow more of the wines I was tasting than I did.
For more information about Beaujolais and tourism in the region go to www.beaujolias.com where you can get a free booklet in both French and English giving you an insight into what the region has to offer.