We are told that this international company currently employs more than 4,500 staff worldwide, with regional offices in London, Hong Kong, Toronto and Miami. Despite this, the Gallo Winery still remains a family-owned business, spreading a little of the Californian sun worldwide. We decided to taste some Gallo wines to see how they would stand up to the usual range of festive fayre.
The Gallo Family Vineyards White Grenache 2009 is a very fruity rose wine. On the nose you get big juicy strawberry notes and this comes through strongly on the palate together, we thought, with some cherry notes. These strong fruity flavours give the wine a sweetness and the low, 9.5% alcohol content make it an ideal drink for parties, it would pair well with sweet and savoury canapés.
You can find the white Grenache at Asda and Tesco, where it has a RRP of £5.99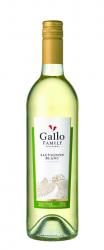 The Gallo Family Sauvignon Blanc 2008 gives you aromas of apricot and green fruits on the nose, on the palate there is a citrusy tang and grapefruit comes through followed by green fruits. This is a wine that is fresh and sharp with some length that would work well with fish and white meat dishes, a great wine to have with a fish starter.
You can also find the Sauvignon Blanc at Asda and Tesco at a RRP of £5.99
The Turning Leaf's Cabernet Sauvignon 2008 had forest fruits, berries and blackcurrant on the nose. On the palate it is a mouthful of black fruits, blackcurrant blackberry and cherry with some acidity and vanilla coming through. This is a medium to full bodied red that is soft and smooth on the palate with medium tannins, an ideal wine for red meats. The label also suggests pairing with 'red pasta sauces' and we wouldn't argue with that.
The Turning Leaf Cabernet Sauvignon is widely available at a RRP of £7.49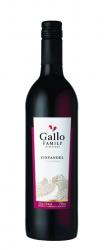 The Gallo Family Vineyards Zinfandel 2007 had fruity blackberry and vanilla on the nose. This soft wine has low tannins a lovely syrupy texture on the tongue. It has big blackberry and cherry flavours, a slight tang on the edge of the tongue and vanilla in its finish. This is a wine that could easily be drunk by itself, but would equally stand up to bolder red meat dishes, or pork. The label also recommends pairing with spicy pasta dishes which we imagine would work.
The Zinfandel is also widely available at a RRP of £5.99
The Barefoot Merlot had soft blackberry and black cherry on the nose. This soft medium bodied wine had light to medium tannins with blackberry, cherry and raspberry notes coming through, some slight acidity on the palate together with a hint of vanilla in its finish. This is another possible candidate for those bolder red meat dishes. The bottle also recommends it as an accompaniment with poultry, pasta in a tomato sauce, cheese and desserts and whilst we would perhaps hold back on the dessert suggestion, we could well see it working with the other dishes.
The barefoot Merlot is available at Tesco at an RRP of £5.99
And finally, the Redwood Creek Cabernet Sauvignon 2007, this is another wine with blackberries and cherries vibrantly on the nose. On the palate you get tangy blackberry some acidity with light tannins. This medium bodied wine is soft on the tongue and has great length in its finish, it's very drinkable on its own but would also be a great accompaniment to red meats and cheeses.
The Redwood Creek Cabernet Sauvignon can be found at Asda with an RRP of £7.37
All of these Gallo wines were very reasonably priced and we thought they were absolutely an affordable addition to your Christmas or New Year celebrations, or any special meal.
Why not try them for yourself, they are very good.
For more information about E&J Gallo wines go to www.gallo.com