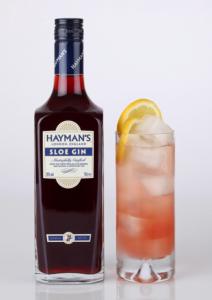 Hayman Distillers was originally founded in 1820 by James Burrough (the great grandfather of the current Chairman, Christopher Hayman) who created Beefeater Gin. It is, we are told, the longest serving family owned gin distiller in England. They have been making sloe gin for over a hundred years but it is only recently that their production has been large enough to market the product nationally.
Hayman's Sloe Gin is made from wild English sloe berries, gently steeped for several months with Hayman's Gin before being blended with natural sugar creating a rich ruby red liqueur. Sloe berries are a type of wild plum, which come from the blackthorn tree. The berries are traditionally harvested in the autumn, just after the first frosts. We tasted Hayman's Sloe Gin and it is smooth and intense with bitter sweet fresh fruit flavours, there is some peppery heat on the tongue and a slight drying edge to it as you would expect from sloes. The liqueur has a good mouth-coating syrupy feel and nice length on the palate. On its own it's very much a sipping drink, one that would go down very well after dessert or cheeses following a heavy meal, like Christmas dinner.
It has become much easier to get hold Hayman's Sloe Gin as it is now stocked in Wine Rack, so visitors to any of their 19 stores are able to snap up a bottle. At the moment each bottle of Hayman's Sloe Gin sold at a Wine Rack outlet will be presented in a stylish exclusive Haymans' Gift Bag, making it a great gift for someone special.
You may of course want a bottle just for yourself, it will work very well in a number of cocktails, like the Sloe Gin Fizz below.
Sloe Gin Fizz
Ingredients:
60ml measure Hayman's Sloe Gin
30ml measure Fresh Lemon Juice
30ml measure sugar syrup
Top with soda water
Method:
Simply combine Hayman's Sloe Gin with the lemon juice, sugar syrup in a tall glass with ice, then add soda water and decorate with an orange slice to create a refreshingly long drink with vibrant red fruit offset by citrus flavours.
You can find Hayman's Sloe Gin in Harvey Nichols www.harveynichols.com,, Selfridges, wine shops nationwide, www.thedrinkshop.com and all of Wine Rack stores (See www.winerack.co.uk or site locations) at an RRP of £19.95.