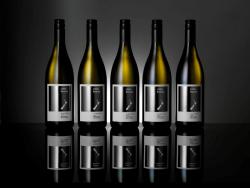 The Little Beauty range of wines hail from Marlborough, one of the prime wine producing regions in New Zealand. The company that produce these wines, Vinultra, began planting vines back in 2002. Despite a freak flood ripping out many of their newly planted vines early on, they were able to start wine production in 2008. I met with Fleur McCree, one of Vinultra's co-owners, recently and she talked with me, enthusiastically, about this new range of wines with passion and pride.
Fleur and her partner Hemi Duns' intention is to market their wines principally in the UK at the moment, though some of their wines are retailed in the Scandinavian market. As things stand, their wines can be found in restaurants and bars. It was in Claridges bar that I met Fleur and tasted the 2008 vintage Sauvignon Blanc, which I liked very much, the wine on sale there at around £45 per bottle and £14 per glass; clearly they consider this is a price tag that this vibrant new world wine can carry. However, you can buy this range of wines at a significantly lower price – the Sauvignon Blanc at £10.99 per bottle – direct from Vinultra through their website and what's more Vinultra deliver free, if you order a case of 6 wines or more. And depending on the day of order they deliver the next day. Fleur told me that she tries to maintain a personal relationship with Little Beauty customers, so will do what she can to accommodate any special needs.
Fleur and Hemi have certainly been through some challenging times, but the wines that they are producing are absolute proof that perseverance has its own rewards, the two we tasted each bursting with flavour and character, a joy to drink and savour. And it's this character that makes Fleur see these wines as something more than just a product, in the light of this have given their wines their own business card.
We tried the 2009 vintage of the Little Beauty Sauvignon Blanc at home and it was equally as good as the 2008 vintage I had at Claridges' bar. It had clean, fresh, acidic, fruity notes on the nose including aromas of passion fruit and guava. On the palate this wine has some body, you feel it coating your tongue and there are great vibrantly tangy grapefruit, mango and peach flavours with an acidic bite on the edge of the tongue, the wine has great length and a hint of dried apricot in its finish. We drank our first glass without food and it's certainly a wine that you can sip as you chat or relax in front of the television, or whatever. Our second glass accompanied a light lunch of olive bread, baby plum tomatoes, buffalo mozzarella and basil infused olive oil. The dish had the effect of intensifying the sharp fruity acidity in the wine. It would absolutely support fish and white meat dishes really well, including those in a creamy sauce.
The Little Beauty Pinot Gris has a fine bouquet, with subtle tangy green fruits on the nose. On the palate when chilled, it's equally delicate, soft, with a fine fruitiness that grows on the tongue – for me there were hints of pear drops which took me back to childhood. As you wash it around your mouth, there's a great tang on the edge of the tongue and a tingle remains with you. We chilled the wine in the fridge for an hour before pouring initially and that's where we got those flavours, but as its temperature rose in the glass, its flavour developed becoming bolder and its body grew. This is a lovely complex wine that grows in the glass, working well just on its own, but we had some with roast pork and vegetables, it had sufficient body and flavour to balance the food. This and the Sauvignon Blanc, are two wines that I would happily recommend.
In talking to Fleur about her wines she told me that regular net customers are offered a discount depending on the volume of wine that they might order. I suggested that Vinultra might like to give foodepedia readers an introductory discount when they order. Fleur offered to give our readers an initial discount of 15% on their first order – almost one free bottle in 6. She also said that depending on their continued custom, discounts may grow. So this is an excellent opportunity to try some great quality wines at a premium price. I would absolutely say, go for it.
For more information about Little Beauty wines, and to order some at a 15% discount, go to: www.littlebeauty.co.nz