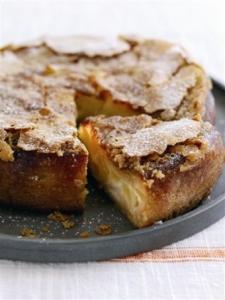 Sainsbury's has teamed up with Peter Hall, British apple grower, to celebrate the beginning of British apple and pear season, by recreating a much loved recipe – Au Pair's Apple Cake!
The recipe, which has been in Peter's family for over 25 years and inspired by a French au pair staying with the family, is the perfect way to make the most of the deliciously British apples in store now.
Sainsbury's sells more British apples than any other supermarket, with 59 different varieties available to shoppers, so make the most of the season with this delicious recipe.
Au Pair's Apple cake recipe, serves 6-8
INGREDIENTS
500gm tart British dessert apples – e.g. Cox Orange Pippin pre-Christmas – cored and chopped
75 gm self raising flour
1 tsp baking powder
125gms castor sugar
6 tabs milk
4 tabs sunflower oil
2 size 3 eggs, beaten
For the topping –
75 gms unsalted butter
100 gms castor sugar
1 tsp vanilla essence
1 size 3 egg
Icing sugar
METHOD
Grease and line the base and sides of a deep loose bottomed 8" tin with greaseproof paper
Pre-heat oven to 170 °C
Put chopped apple into tin
Mix cake ingredients together to a thick smooth batter and pour over the apples
Bake for 45-50 mins until risen and golden brown
Beat the topping ingredients together and pour over the cake
Return to oven for a further 30 mins
Cool the cake in the tin then remove and gently peel off paper
Sprinkle the top lightly with icing sugar
Serve freshly baked warm with vanilla ice cream or thick dairy cream.