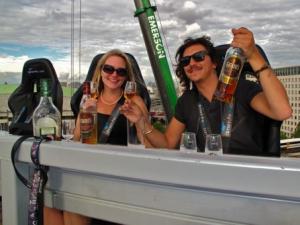 I'm 40 meters above an asphalt parking lot on the South Bank of the Thames, literally eye-to-Eye with London's famous Ferris wheel, strapped into a padded leather swivel chair that must be the tallest barstool in the world. There's nothing but air beneath my feet—or, arguably, between my ears, given my current predicament. Ah, the lengths—and heights—I'll go to for whisky.
'Now THIS is a vertical tasting," quips erstwhile-rocker-cum-journalist Vernon Ward, a charming Johnny Depp look-a-like in full-on Jack Sparrow mode (minus the dreadlocks and tricorne). We bonded moments before, way down below, over cranberry-coloured cocktails liberally laced with Grant's Blended Scotch Whisky, sponsor of this ambitious event, which master blender Brian Kinsman chalks up to 'consumer education."
It's important, after all, to school oneself in the proper way to drink whisky amongst the clouds—although in practice, it's not so different to downing drams in a normal bar, aside from a seatbelt running across both shoulders and between the legs. (Come to think of it, this might be handy for holding fast to any barstool, as they do seem to become increasingly slippery and unstable over the course of an evening).
With all punters snugly strapped and swaddled, the rectangular bar platform, flanked by 22 chairs, with a glass awning overhead and a bartender's catwalk in the middle, is hoisted heavenward by a massive green crane. A Frank Sinatra soundtrack, crooning over unseen speakers, helps to soothe frayed nerves—as does the trio of whiskies presented to us by Kinsman and Bert Macor—a senior guide at the Glenfiddich Distillery (also owned by William Grant & Sons).
I ask Macor, a lanky redheaded Dutchman, how he was roped (literally, as he is tethered to the bar) into this, ahem, high-profile assignment today. 'Did you draw the short straw—or did they choose you because you already owned the harness?"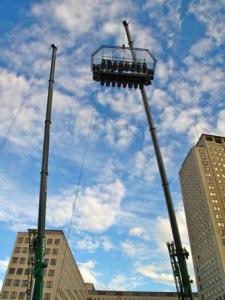 'I'll take it home with me to spice up my life," he laughs, snapping the sturdy nylon straps before proceeding to pour a dram of the Ale Cask Reserve. After initially aging in American oak, this whisky undergoes an additional three-month incubation period in casks once occupied by Edinburgh Strong Ale. The result, somewhat to my surprise, is a sweetly honeyed liquid that glides all too easily down my gullet.
With that rice pudding richness still lingering on my lips, I take a dutiful swig of water before proceeding to the Family Reserve. Based on a recipe developed by William Grant in 1898, this blend combines about 25 single malt and grain Scotch whiskies. It feels oilier, fatter on the tongue than the Ale Cask Reserve, and while my (perhaps Cro-Magnon) palette focuses in on its faint, peaty smokiness (a quality I quite favour in my whiskies), a little spinning cheat-sheet wheel that spells out the nose, taste and finish of various Grant's blends tells me I ought to be detecting 'ripe pear" and 'summer fruits," as well.
'The Speyside whiskies (we use) give you this lovely va-va voom," Macor explains. 'You get fruity, floral notes, like apple or a bouquet of summer flowers. That is a characteristic that we treasure and try to pamper in our blends of whisky."
Apple? Maybe, if it's baked with cinnamon and topped with a dollop of whipped crème.
But before I have time to ponder it further, Macor slides a final finger of amber fluid into my third glass. This is the Sherry Cask Reserve, which uses the same Family Reserve recipe, but matures it a further few months in Oloroso sherry casks.
It wears that age well, with spicy undertones adding complexity and interest. 'It's slightly more angular," says Kinsman. 'Not so soft. Not so sweet. More robust."
After one final toast with Johnny—er, Vernon—('Bottoms up. Way, way up!"), we find ourselves earthbound once again. But as I wobble off into the sunset, belly burning with Grant's blends, my feet hardly touch the ground.