Here's a simple recipe to warm you up in these autumnal months with a goaty twist. Perfect for Halloween and a great way to use up your hollowed out pumpkin!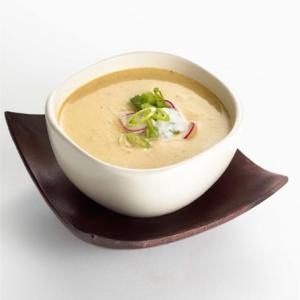 What you need: (makes 6)
Sesame oil
1 onion chopped
1 tablespoon of Thai red curry paste
2cm piece of fresh ginger, grated
1kg of pumpkin peeled & cubed
600ml hot vegetable stock
200ml single cream
200ml of coconut milk
6 spoonfuls Delamere Dairy Natural goats' yogurt
Freshly chopped coriander
Thinly sliced spring onion for garnishing
Thinly sliced radish for garnishing
What you do:
In a large pan add a dash of sesame oil and gently fry the onion, curry paste and ginger for about a minute or so, add the pumpkin and stock and bring to the boil, simmer for 15 minutes until the pumpkin is soft and cooked. Remove from the heat.
Allow to cool a little before adding the cream and coconut milk, place into a blender and liquidise well and season to taste.