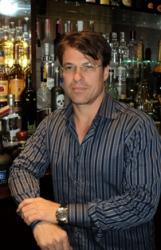 I have to say that whenever absinthe is mentioned my mind goes straight to the little green fairy, played by Kylie Minogue at the start of Moulin Rouge and imagine that many other do the samel. That little sequence in many ways summed up the reputation that Absinthe attained in the early part of the 20th century. It was the supposed dangers linked to it, which included allegations that it was poisonous and that it had hallucinogenic affects on the drinker, which led to Absinthe being banned in most countries. This ban held widely for many years and it's only in the last 20 years or so that we have been able to buy absinthe in this country.
In America, the ban on absinthe continued well into the new millennium. It was lifted only after extensive research and lobbying from Ted Breaux, a research scientist and Jared Gurfein. Through his research, into Absinthe Ted dispelled the myths surrounding it, providing the American Government with analytical evidence and samples, this and their lobbying led to the ban on Absinthe being lifted as recently as 2007. I was invited to the offices of Vanquish, a luxury drinks company, to a presentation by Ted and Jared about the history of Absinthe as well as the product more generally.
In giving us details about the history of this much maligned spirit, Ted explained that the wide banning of Absinthe came about after a period when poor climate had led to wine production in France declining and during this time absinthe was in its ascendency. When wine production improved the popularity of absinthe remained high. As a result the wine industry seized on a story about a man going mad and killing his family, then attempting suicide. The wine industry promoted the view that this man went crazy after having drunk absinthe, which he had, but this was among a variety of drinks he had consumed that day in a drinking frenzy. A ban on the product was put in place widely and remained so in most countries until recent times. Since the relaxation of the ban in many countries numerous producers have joined the bandwagon making 'absinthe' using chemicals, artificial colouring and flavours in their process.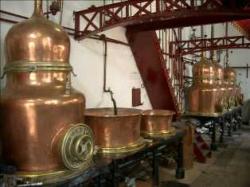 Along with their research and lobbying, Ted and Jared set up a business in France to make absinthe, using a 100 year old still and artisan techniques, macerating herbs that make up absinthe's distinct flavour, into a base spirit. This all anticipating their success in overturning the ban on importation to the US. Production began, with Ted as the Master Distiller and continues today, under the name Lucid. While at Vanquish, in their rather splendid tasting room, which houses an enviably enormous drinks cabinet with many, many varieties of alcohol on display, we were invited to sample a range of cocktails featuring Lucid absinthe. These were prepared by the cocktail mixologist Theo Von Sternberg, from McQueen Bar in Shoreditch and were largely based on absinthe cocktails that Ted had researched and found, some dating back 100 years or more. We started with 'the perfect serve, simply Lucid absinthe with iced water dribbled into it until the whole of the pale green spirit had turned a milky white colour. This was the traditional way to drink absinthe, although the water should be drizzled over sugar cubes into the spirit. However, it's quite a sweet drink without pouring the water over the sugar.
Several cocktails later, not full ones you understand, even I am wary about a spirit that is over 60% proof, we finally tasted one that had no sweetening agent in it, other than the absinthe itself, the Tuxedo Cocktail, made up of: 1 dash absinthe, 1 dash maraschino, 3 dashes angostura bitters, half measure each on vermouth and Old Tom Gin, all shaken with ice and strained into a cocktail glass. For me this was much more palatable and I enjoyed one all to myself, though it has to be said I wasn't shy when tasting and drinking some of the other concoctions that Theo made. When used in cocktails like the Tuxedo and the others we tried, the anise flavour as a background gives a great lift to them.
Ted and Jared's production of Lucid absinthe is largely swallowed up in America, literally, where the brand has a 60% share of the absinthe market, but they are working on marketing the product here. It is most likely to be found at hotel and cocktail bars initially, so if you fancy trying this artisan absinthe in the perfect serve – with or without sugar cubes – or in one of many cocktails, look out for Lucid when you're next visiting a quality cocktail bar like McQueen. I was quite taken with it and for those of you who prefer sweeter cocktails and like aniseed it will undoubtedly be a winner. I can't promise you won't see little green fairies if you drink too much, but then I can't promise you won't see pink elephants either.
To find out more about Lucid absinthe, go to www.drinklucid.com, about Vanquish, go to www.vanquishwine.com and about McQueen, go to www.mcqueen-shoreditch.co.uk