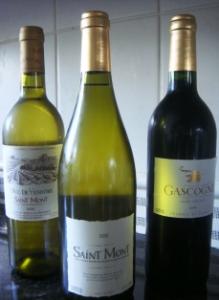 Some thirty years ago a union of wine producers in South West France was set up. Plaimont, which brought together producers from Caves de PLaisance, Caves d'AIgnan and Cave de Saint MONT in 1979 is the largest wine supplier from South West France, comprised of over a thousand producers. This French co-op, produces a range of wines using local grape varieties, many of which they have saved from extinction in order to maintain the originality of their wines. Plaimont wineries all use modern procedures in order to track the grapes from the vine to the bottle, using management software, to enable winemakers to know exactly where the grapes were grown.
Having heard about this French co-operative we decided to search out some wines available off supermarket shelves in this country so that we could bring these wines to the attention to our readers; those that we tried were:
Duc de Vendôme 2008

Duc de Vendôme is a blend of historical grape varieties from the Saint Mont vineyard situated in the hills of Gascony. The label tells us that Arrufiac, Petit Courbu and Gros Manseng grapes have been used to create this wine. It boasts 'well-balanced with aromas of exotic fruit and peach, followed on the palate by fresh fruit flavours, and a pleasant acidity'. We can certainly attest to this, it was very fresh on the nose and did have a good fruitiness on the palate with a nice acidic finish. This is a very pleasant drink that I could imaging quaffing chilled in the garden on a warm summer day, but would equally work well with lighter dishes including salad type starters and most seafood dishes.
Available from Waitrose at £6.99 this is well priced and good value.
St Mont 2008

This dry unoaked white is a blend which also includes, the Arrufiac, Petit Courbu and Gros Manseng grapes. Delightfully fresh, crisp and clean on the palate, it has good ripe tropical fruit flavours and a subtle hint of nuttiness, its long finish leaves a lovely after-tang in the mouth. Again we drank this on its own, it needed no support as it was great in the mouth but its fullness of flavor would amply support lighter dishes that have some character including some stronger fish dishes and scallops, it would also work well or with chicken in a creamy sauce or fresh asparagus, the wine's lovely acidic tanginess would certainly balance any of these.
Available from marks and Spencer at £6.99 it is well worth trying
Gascogne Red, 2008

As the name suggests this wine is made in the Gascogne region where, we are told by its label 'the dry sunny days are tempered by a fairly mild climate, which ensures ripe fruity flavours and a balanced zesty acidity'. The label also tells us that a local variety of Tannat has been blended with Merlot and Cabernet Sauvignon to produce the wine. We thought that this light to medium bodied wine had nice blackberry notes, a fruitiness and a dry edge with a spicy finish.
The label suggests that you 'enjoy as an apéritif or to accompany light meat and poultry dishes such as rosemary grilled lamb chops, pork loin in mustard sauce or the Gascogne favourite, roast duck' and we wouldn't disagree with any of that.
Available from Marks and Spencer at £5.99, this is another wine that is great on its own or with food
The wines from this French region's do have a distinctiveness of character that is well worth checking out. They are reasonably price and pretty accessible, so why not try one – or all if they appeal to you – and see for yourself.