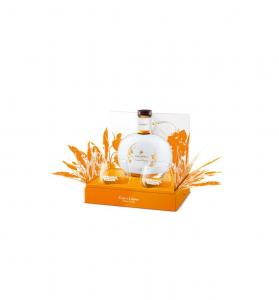 Last night was the very lively launch of Rémy Martin's Coeur de Cognac Summer Fruits Limited Edition which is being billed as the cognac to drink during the summer season. The event was to celebrate the release of a new seasonal gift pack which includes a bottle of the cognac in a white leather jacket and two silk screen printed tasting glasses.
The party was at the Eight Moorgate private members club, close to Liverpool Street. Outside on the 5th floor decking I almost managed to trick myself into thinking I was in New York; the views over the East End of the sprawling city and shiny office buildings were unusual in that normally when you're that high up your looking out at St Paul's or the Gherkin or some other postcard landmark.
The evening started off with cognac Mojito's and savory canapes of little garlic mushroom tartlets and smoked salmon rolls. The Mojito's were zingy and reinvigorating, tasting just like summer condensed into a tumbler.
The Coeur de Cognac was then offered to us in various forms including served straight in a vessel that was essentially a cross between a glass and a bowl. With strict instructions to swirl the cognac round in a circular motion we stood and talked about the flavours and aromas of the golden liquor. A cognac expert told us to look out for aromas of apricot, honey and vanilla which most of our noses were able to pick up on. I also smelt pears, which I was very proud of.
Along with our Cognac we were served sweet canapes including bite-sized hazelnut cookies, strawberry jam jelly squares and my personal favourite, blackberry marshmallows.
Later when I spoke with the cognac expert again, he mentioned that the Rémy Martin Coeur de Cognac would be ideal for serving with a dessert course or as part of an alternative afternoon tea consisting of sweet treats like macaroons and white chocolate truffles. I agreed whole heartedly with him and looked around almost instinctively hoping that maybe some macaroons might have magically appeared.
This cognac has been designed with sheer drinking pleasure in mind and it seemed to the job very well. A cognac enthusiast would most definitely be pleased with the Coeur de Cognac Summer Fruits Limited Edition as a gift and for those who haven't really indulged in cognac before I think this set is well worth investigating.
Rémy Martin's Coeur de Cognac Summer Fruits Limited Edition set is available from Selfridges, Harrods and Fortnum & Mason priced £89.