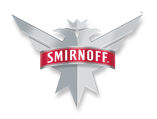 The Smirnoff Co. Has announced recently that it will be simultaneously unveiling five huge ice sculptures across the UK on the 11th of September celebrating the national launch of two new flavours of vodka; Green Apple Smirnoff and Lime Smirnoff.
Appearing in Glasgow, Edinburgh, Manchester, Liverpool and London, the ice sculptures will recreate iconic landmarks from each of the five major UK cities in the form of scaled-down replicas. In Glasgow's Buchannan Galleries, an ice carving of the Armadillo measuring 8 metres by 2.4 metres high will be constructed. The infamous Forth Bridge will be rebuilt on the rooftop of Edinburgh's Prince's Street Mall, Manchester's futuristic Urbis will be reproduced at The Great Northern and Liverpool One will be home to an ice replica of the top of the Liver Building. Meanwhile coming to the capital's beautiful Covent Garden piazza will be an ice sculpture of London's skyline featuring Canary Wharf, Big Ben, Tower Bridge, The London Eye, St. Pauls Cathedral and The Gherkin, measuring 10 metres in length and 3 metres in height.
The installations will see some of the world's top ice sculptors, Duncan and Jamie Hamilton, Ben Edson, Jack Hackney and Darren Jackson work through the night to carve the structures from a mix of clear and white ice. The ice blocks for the sculptures, being prepared in giant freezers at the Hamilton's workshop in South West London, will be transported to each location on the 11th of September. Upon arrival, they'll be slotted into place and shaped into their illustrious designs, incorporating limes, green apples and frozen bottles of Smirnoff flavoured vodka.
Weighing up to an impressive 3 ½ tonnes, each sculpture will take 4 men approximately 5 hours to assemble and carve from the time the blocks arrive on site. Once completed, they will be on show day and night until the ice melts and the monuments disappear. Make sure you get to these locations if you'd like to see these impressive sculptures before they melt. Also, why not seek out a bar selling these new flavoured vodkas following the launch and try them.