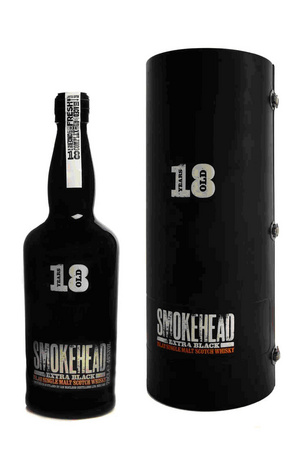 Ian Macleod Distillers is launching a new super premium 18 Years Old whisky SMOKEHEAD EXTRA BLACK to the UK domestic market. The new Islay Single Malt will offer discerning and adventurous drinkers a high quality whisky with a contemporary edge. From its intense, smoky and boisterous flavour to its matt black and silver bottle, this limited edition whisky is one-of-a-kind.
Not for the faint-hearted, Smokehead Extra Black is a powerful and complex Single Malt, with hints of mint, ginger, cloves and vanilla and undertones of kiwi fruit and smoky chocolate.
With only 6000 bottles available worldwide, retailing domestically at around RRP £85.00, Smokehead Extra Black would make the perfect luxury addition to any whisky-lover's collection, or as an ideal gift to mark a special birthday or event.
The design reflects the 18 Years Old Malt's limited edition status. A tapered frosted black bottle, imprinted with contemporary silver letterpress type makes Smokehead Extra Black stand out from the crowd, while the robust matt black flight case carrier with silver Smokehead logo, reaffirms that this product is every inch, 'Extra Black'. The bottle sits in a black foam interior, is individually numbered and signed reaffirming its rare, limited edition status and has its own tasting note booklet.
While many will choose to savour this whisky on its own, Smokehead Extra Black will also appeal to cocktail connoisseurs who wish to add a distinctive flavour to classics such as the Manhattan and the Whisky Sour.
Smokehead Extra Black is the first aged Single Malt from SMOKEHEAD and follows the very successful launch in 2006 of the original and un-aged Single Islay Malt. Since then, the original Smokehead has gone on to win numerous gold awards and accolades, for both its intense flavour and eye-catching design. Smokehead original is available throughout the UK and worldwide.
Curious to discover more? visit www.smokehead.co.uk
Smokehead encourages responsible drinking