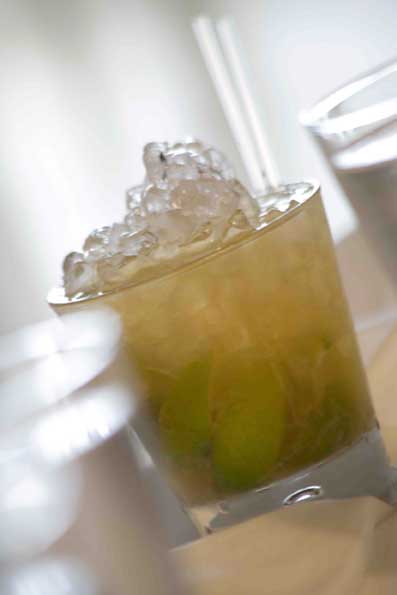 Ketel One is a velvety smooth, ultra-premium vodka and is perfect for turning classic cocktail recipes into modern masterpieces.
Taking inspiration from the summer's sun, this exquisite cocktail delicately balances the sharpness of fresh lime with the warming flavours of ginger.
50ml Ketel One
1 thin slice of ginger
1 wedge fresh grapefruit
4 wedges fresh lime
2 spoons granulated sugar
Luscombe Lime Crush
2 units per serve
Put the ginger, grapefruit, lime and sugar into a tumbler and 'muddle' or crush together with the handle of a wooden spoon. Add the Ketel One Vodka, lots of ice and top with Luscombe Lime Crush (to taste).
Discerning vodka drinkers with a taste for the finer ingredients in life will find a 70cl bottle of Ketel One Vodka RRSP (£19.99) at selected Tesco, Majestic, Selfridges, Harvey Nichols, Nicolas and online retailers including www.thedrinkshop.com, www.drinkon.com and www.specialitydrinks.com
Alternatively, ask for Ketel One in any number of leading bars including The Connaught, Buddha Bar, Purple Bar at the Sanderson, fifteen and The Living Room.
Meticuloulsy handcrafted, Ketel One is distilled in the original copper pot still from 100% top grade wheat at the Nolet Distillery in Holland. The Nolet Distillery was established in 1691 by Joannes Nolet to produce Jenever. Ten generations on, it is still owned by the Nolet family and led by chairman, Carl Nolet Sr.
The family continues to apply their knowledge and experience to producing Ketel One Vodka and Ketel One Citroen for several international markets and Ketel 1 Jenever for the Dutch market. The company remains steeped in tradition and is one of the oldest family-operated businesses in Holland.
For more information on Ketel One Vodka, please visit www.ketelone.com