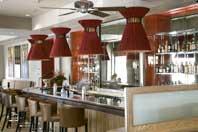 Start the New Year 2011 with a Tea-infused Cocktail at 108 Marylebone Lane Restaurant & Bar, located in the heart of Marylebone Village. Aromatic teas have been blended with a variety of liqueurs and spirits to create the perfect pick-me-up cocktails, available throughout January 2011, priced at £9.75 each.
Green Tea Ni
This refreshing blend of Green Tea, Tequila and Elderflower cordial is served with fresh ginger and a slice of fresh cucumber.
Teabicus
Cognac Remy, Blackberry Liqueur and Orange Bitters are blended with Hibiscus Tea to create a fruity concoction.
108 Marylebone Lane is one of Marylebone's best-loved venues offering a vibrant atmosphere. The restaurant delivers great quality food with a touch of local charm, while the lounge offers a perfect setting for a tempting cocktail from the bar.
108 Marylebone Lane Restaurant & Bar, 108 Marylebone Lane, London W1U 2QE
Tel: 020 7969 3900, or visit www.108marylebonelane.com