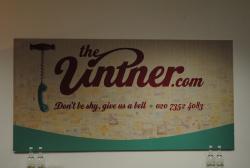 I seem to be writing about New Zealand wines a lot of late and it has to be said, quite justifiably. I have tasted some excellent vibrantly fruity produce from this part of the world. So when invited along to a wine tasting at The Vintner, I was pleasantly surprised to find that all the wines on the table for tasting were also from New Zealand.
Before talking about the wines, let me tell you a little about The Vintner, a new kid on the block in terms of wine merchants. This was their inaugural wine tasting, having set up in business in December and just finished putting their tasting room together.
After arrival, I was handed a glass of some very nice sparkling wine from the Morton Estate and engaged in conversation by one of The Vintner team. I was told that on the run up to the opening and since, their enthusiastic team has been travelling widely visiting producers and sampling hundreds of wines from different parts of the globe in order to pull together their list. Currently made up of some 75 wines, it's intended that The Vintner will eventually grow their list to 100 wines under £25, ranging upwards from about the £5 mark. In addition they have a list of some fine wines which have price tags in excess of £25 as you might expect. I understand that apart from advising customers on wines, the Vintner team will invite customers to taste the wines they are considering buying. But anyone taking this up would need to discuss with the team any terms that might apply.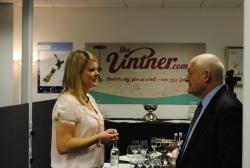 The Vintner doesn't have a shop front, which confused me a little when looking for the place, I walked straight past it thinking that I'd made a mistake with the address. They occupy office space on the first floor above shops at 321 Fulham Road. In the short period since its starting business, The Vintner has already developed a client list of several London Restaurants as well as Rick Stein's restaurants in Padstow. I was told that they already deliver to quite a few locations around the country. Their intention is not just to supply restaurants and the trade, they also aim to sell direct to the public, offering all their customers, whether businesses or the individual wine loving member of the public, the same deal, which is very encouraging. Their offer, across the piece, is delivery to many parts of the country at a flat rate of £10 inclusive of VAT, when ordering less than three cases (36 bottles). However, if your order is for three cases or more, not only is delivery free, but the customer receives a 10% discount on the total case prices, which seems to me a pretty good deal. The Vintner has a small fleet of vans, giving them control over deliveries and I am told that customers can expect to receive their orders within 3 working days. However, dependent on location many might expect next day delivery and where possible, The Vintner will deliver at the customer's convenience.
And so to the tasting, in all we tasted eleven wines during the evening I was there, seven from the Morton estate, the other four from the Archangel Estate in the Central Otago region of New Zealand. These were all paired with excellent canapés prepared by catering company, Rocket Food. Their tasty nibbles included potato thins with avocado and lime, crotin of goat's cheese, confit red mullet, with pickled onion and pinot noir sauce, watercress bomb and individual strawberry trifles, there were several others, all beautifully prepared and working well with the wines on show.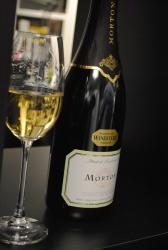 Looking at the Morton wines first, the initial wine we tasted was the Morton reserve Sec which had a good fruity acidity to it and a soft bubble. Next was another sparkler, the Blanc de Blanc 2000 which had a big citrusy acidity and some great tanginess to it. Their White Label Sauvignon Blanc 2010 had citrus and passion fruit flavours and great length on the palate. Then we tasted two Coniglio Chardonnay, the 2004 and the 2002. The 2004 had a fresh, clean sharp acidity with yellow and tropical fruit notes and a slightly creamy texture. The 2002 was somewhat softer than the 2004, but still giving a zesty acidity, some apricot and tropical fruit flavours with good length and a great mouth coating quality. Next a red, the White Label Pinot Noir 2008 gave me good fresh red fruits and some blackberry on the palate, it was a light to medium bodied wine that had a little pepper in its finish, low tannins and good length. The last of the Morton wines we tasted was the Late Harvest Semillon, a dessert wine, served with the trifle and some pecorino, this had a good tangy sweetness to it and gave me a tingle on the tongue. It had a big fruity flavour, notably some sharp pear, reminiscent of the pear drops I used to eat as a kid. As you might imagine from a sweeter wine the Semillon had a good syrupy mouth coating quality.
There were four Archangel Estate wines, the first of these, the 2009 Riesling, had an interesting toasty caramel/candyfloss and fruity aroma with some serious fruit going on in the mouth, good citrus and great passion fruit in its length. The Pinot Gris 2009 was vibrantly zingy with yellow fruits and a fresh acidity together with a great mouth coating quality. Then came two Pinot Noir wines, The Long Trek Pinot Noir 2009, was the first of the two. This had fresh red berry notes and hints of blackcurrant together with soft blackberry, It was a medium bodied wine with nice length and a little peppery heat in its finish. And finally, we tasted the Archangel Estate 2008 Pinot Noir. which also had fresh red berry flavours, blackcurrant and blackberry coming through on the palate but was a finer wine, fresh and bright, it had a bigger fruity sweetness in the mouth and great length on the palate.
I wasn't disappointed by any of the wines we tasted, each had big character and some good vibrant fruit enlivening the taste buds. They were a joy to sip and savour, I would happily recommend any, indeed all of them to you.
As to The Vintner, check out their site, if you are in the market for topping up you cellar, whether you are in the trade or not, they have some excellent wines to select from.
The Vintner, 321 Fulham Road, London, SW10 9QL www.thevintner.com
For more information about Rocket Food go to: www.rocketfood.net