Following the health-related research that the British Egg Industry Council released, here are some recipes that the happy egg co and top Chef Mat Follas have got together to promote the versatility of eggs to get people using them in dishes beyond the breakfast table. the happy egg co. is committed to producing great tasting eggs laid by the happiest free range hens. All of the happy egg co. farms exceed the standards required for free range hens. the happy egg co. producer base comprises of specially selected British Free Range farms.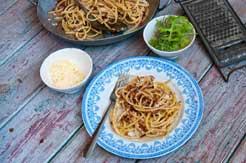 Proper Carbonara
Serves 4
Ingredients:
250g bronze die Spaghetti
3 happy eggs
150g dry cured bacon or pancetta
100g parmesan cheese
Method:
Boil spaghetti until al dente
While it's boiling, lightly cook the bacon in light olive oil or rapeseed oil
Finely grate the parmesan cheese
Drain the spaghetti, add it to the pan of bacon and gently mix together over a low heat
Crack the eggs into the spaghetti and mix
Add most of the parmesan cheese in and mix again
Serve and sprinkle with the remaining parmesan cheese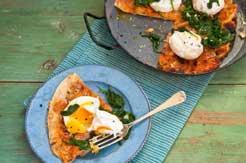 Tortilla Pizza Florentine
Serves 4
Ingredients:
1 tortilla wrap
100g spinach
1 small tin of tomato purée
4 happy eggs
Ground pepper for seasoning and presentation
Method:
Spread tomato purée onto the tortilla wrap
Cook the spinach in a pot of boiling water for 20 seconds, then quickly run under cold water to blanch it. Arrange the spinach on the Tortilla
To poach the eggs: In a pan of gently simmering water, stir to make a whirlpool in the water, crack an egg and carefully drop it in the middle.
Poach for approx. 4 minutes. Arrange the poached eggs on the Tortilla.
Season with ground pepper
Place in a preheated oven at 160°C for 5 minutes to warm through
Smoked Mackerel with a Herb Mayonnaise
Serves 4

Ingredients:
Herb of your choice, finely chopped
1 happy egg
Pinch salt
200ml rapeseed or sunflower or olive oil
1 tsp white wine vinegar
1 tsp lemon juice
Equipment:
Stick Blender
Tip: Olive oil gives a lot of flavour on its own, so I use mostly sunflower with a little olive oil for a nice balance or an extra virgin rapeseed oil makes a wonderful bright yellow nutty mayonnaise
Method:
To make the mayonnaise:
Put the egg into a container just wider than your stick blender (I often use a large mug) then add 150-200ml oil, vinegar and lemon juice
You can then add other flavours; chopped wild garlic, dill or fennel fronds for fish, capers for shellfish. It's worth noting that flavours intensify over a while, so be cautious with garlic, especially as it will get much stronger in flavour after an hour or so
This keeps fine for two days but it's so easy, I usually make it fresh. Serve with smoked mackerel and fresh salad leaves