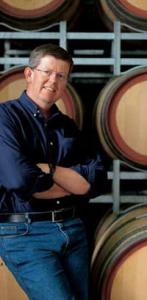 Tim Adams has the kind of face that looks like it should be located due south of a hat with corks dangling from it. It's an Australian face, to be frank. It's a face that speaks of working outside in the fresh air and doing an honest day's toil for an honest day's pay. And his ears stick out a bit, as if the tops are normally compressed by comedy headgear.
Tim is a winemaker from the Clare Valley. His wines win medals and hearts. At the end of our lunch tasting a range of his products I'm ready to invest my small savings in a cellar full of his wines, they are that delicious.
Here in the wonderful Georgian dining room of the Union Club in Soho's Greek Street the food and wine are working lunchtime magic as Tim and his wife Pam tell our select gathering about their rise from winemakers buying grapes and renting production facilities to where they are now, international success story and a big employer.
It's a team effort with wife Pam, she even sold her beloved Honda car to help meet bills in the early days. Now she's head of the money side, a job Tim is happy to hand over as he's a wine man through and through. He's worked in the trade pretty much since leaving school, tutored by the best in the business and in particular by a man he calls Mr Mick, Mick Knappstein
'Sadly he's passed away now,' says Tim reaching for a bottle, 'I was his last pupil, his last protégé, and that's why we now have a range of superior wines called Protégé. To remember him and the skills he passed on'
Their Protégé Riesling is an example of fine wine making. Of course the terroir is different, no frighteningly steep vineyards with slate for soil as you find in the Mosel valley in Germany, but it's 100% Riesling grape and the soil is prepared, as Tim explains, by giant earthmovers that pull up the earth from deep down and deposit it at the top.
Tim's vineyards are not irrigated, something rather unusual in Australia. Tim believes that watering the soil results in the vine roots becoming lazy and staying near the surface. Without irrigation the roots dive deeply into the ground as they do in Mosel, finding water and minerals meters deep. Yield is reduced, but quality goes up and what we have in our glass proves it.
There doesn't seem a single wine Tim makes that isn't impressive as we march through a selection with our food. His Semillon is excellent paired with a dish of spaghetti, brown shrimps and a squirt of lemon juice. The balance of sweetness with acidity is just right and it has the classic stonefruit and grassy notes.
All Tim's wines are screw capped, he isn't romantic about the passing of cork and positively scathing about corks made from artificial materials 'they taint the wine,' he says firmly,' the chemicals leach out into the wine when they are in contact with it, screw caps are perfect.'
His Pinot Gris 'Australians no longer ask for Pinot Griss,' laughs Pam, is a colour that could lead you to think you had a glass of rose but the pink comes solely from the slight pigmentation of the Pinot Gris grape, a mutation of Pinot Noir. It's possible to remove or avoid the colour in the winemaking process but Tim encourages it as he believes it adds structure, and the wine in the glass bears this out. Really remarkable with peach, pear and lychee flavours and, Tim says, perfect with Asian foods thanks to its cleansing acidity.

Never mind all this white stuff though, where are the reds? I'm hoping for something other than the jammy stuff we consume so much of in the UK, red wines designed for people that don't like red wine and to be drunk in bars. I want red wines that only come alive with food as the best French wines do. Tim agrees and reaches for his Shirazs and The Fergus.
'Fergus is a neighbour,' he explains. 'In 1993 we didn't have enough Shiraz and Cabernet grapes so Fergus sold us his Grenache grapes. It was a desperate measure on our part but the blend worked, so well in fact that wine experts who sneer at the mention of Grenache have drunk this wine and loved it before being told what's in it.'
It's a big mouthful and tannins from the other grapes in the blend balance the Grenache spiciness. Great with gamey meats I imagine and not at all bad with my fish! The sun dried tomatoes and simple boiled potatoes seem to enjoy the wine too.
What is most surprising about Tim's wines though is the place where you can buy them – Tesco's. The main selection is on the shelves, but the specials are only available for members of the Tesco Wine Club. Tim is absolutely positive about selling through mass-market outlet and, naturally, not a bit snobbish either.
As he pulls out a bottle of 'sticky', a not for sale dessert wine he carried into the UK in his luggage for us to all enjoy with our puddings, Tim is the perfect host. A genial man with steely determination to produce the best wines he can in the best way possible, he exudes passion and practicality in equal measure. At the risk of enlarging on the stereotype I kicked off with, it seems to be the Australian way.