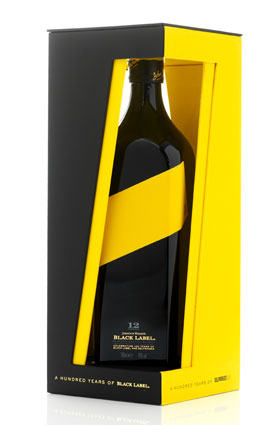 2009 marks the 100th anniversary of two of the UK's most iconic brands, Johnnie Walker Black Label and Selfridges and to celebrate this centenary year, Johnnie Walker has produced a limited edition bottle of its flagship Black Label, exclusively for Selfridges.
The signature Johnnie Walker square bottle, in high gloss black glass for this occasion, has been decorated with the iconic slanting label, made of leather in 'Selfridges Yellow' and individually numbered. Only 100 of these collectable bottles have been produced. A gift for Father's Day perhaps?
Johnnie Walker Black Label was originally launched by Alexander, grandson of John Walker, the founder of the great Walker whisky dynasty. In 1906 he launched a whisky based on his father's original recipe called 'Extra Special Old Highland Whisky'. It was packaged in a square bottle with a slanting label, still hallmarks of the Johnnie Walker range today. However what people remembered was the distinctive black of its label. So in 1909 the range was renamed, and Black Label was born.
David Gates, Johnnie Walker Global Brand Director says: 'Since its launch in 1909, Johnnie Walker Black Label has become an instantly recognisable mark of exceptional quality, authenticity and progress. The partnership with Selfridges is a celebration of the pioneering spirit and uncompromising values embraced by both of these iconic brands over the past 100 years."
The Johnnie Walker Black Label Limited Anniversary Edition will be available exclusively from Selfridges and will retail for £100 RRP.