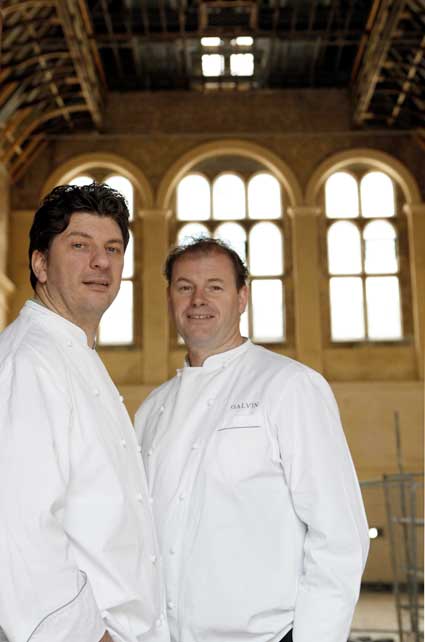 Chris and Jeff Galvin today announce the forthcoming launch of their latest restaurant, based in the heart of the City.
The restaurant, as yet unnamed, is based in the beautiful 19th century grade II listed St Botolph's Hall in Spital Square, between Bishopsgate and Commercial Street. It will comprise three dining areas – a fine dining restaurant based in the main hall, a bar area in the old Curate's House and an all day café with outdoor seating leading on to Spital Square.
This latest addition to the Galvin's restaurant empire is a decidedly family affair. Chris and Jeff Galvin head the team as Chef Patrons; they will be joined by Chris' wife, Sara as Patron and host; Chris and Jeff's brother, David, is in charge of sourcing ingredients; and Chris' eldest son, Emile, joins the team as Operations Manager. This core team will be supported by Spero Panagakis as General Manager and Chris Warwick as head chef, who has worked with the Galvins for a number of years.
Chris Galvin, Chef Patron, said: 'We have always wanted to open a restaurant in the City and Spital Square is ideally situated. It combines the vibrancy of the City with the relaxed, neighbourhood feel of Shoreditch. We will deliver democratic dining: from 'grand cuisine' in the restaurant, cocktails and fine wines in the bar, and a classic 'café de luxe'. It will be a space that City workers, local artists and residents will all appreciate.
'As soon as we saw St Botolph's Hall, we knew it was the building for us. There are breathtaking original features and a detailed restoration project will create one of the City's most striking dining rooms, retaining the hall's architectural delights alongside stunning contemporary aspects in the café and bar."
The Galvin's City restaurant at Spital Square is due to open in Autumn 2009.