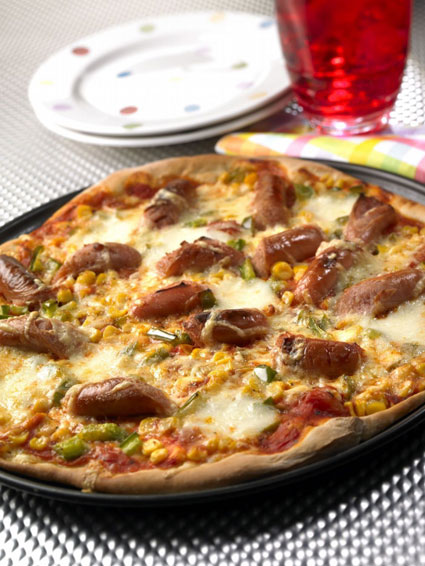 This Richmond pizza recipe is a winner as it will sway the kids away from the takeaway versions which are fat laden, and being so hands on means they get excited about food. Offering a range of pizza toppings is also a great way of getting the kids to eat vegetables!
The recipe uses Richmond Thin Sausages – the UK's number 1 sausage brand, which is a firm family favourite. Richmond Sausages come with an empty plate guarantee and at less than £2.00 a pack, offer great value for money too, perfect in these money conscious times.Get the kids involved with this tasty meal – a home-made version of a takeaway favourite, topped with sausages, cheese, and hidden vegetables.

Serves 4
Prep time: 15 minutes
Cook time: 17 minutes
Ingredients
8 Richmond thin sausages
275g strong plain bread flour
Pinch salt (optional)
1 sachet easy blend dried yeast
3 tbsp olive oil
150-160ml warm water
OR 2 ready prepared large pizza bases
6 tbsp ready prepared pizza topping sauce
½ green pepper, deseeded and finely diced
50g sweetcorn niblets
100g cheddar cheese, grated
125 g mini mozzarella balls
Method
In a bowl mix together the flour, salt and yeast. Mix together the oil and water. Make a well in the centre of the flour and pour in the liquid. Bring the mixture together and knead on a lightly floured surface for 5 minutes. Roll the dough out to a 25 cm circle and line a pizza baking sheet. Set aside.
Pre heat the oven to 220 C, 425 F, gas mark 7. Cook the sausages in a roasting tin in the oven for 10 minutes. Remove from the oven and slice in half.
Spread the pizza topping sauce over the pizza dough and then arrange the sausages on top. Top with the remaining ingredients and bake in the oven for 12 minutes.
TIP: For a really crisp base slide the cooked pizza off the pizza dish and cook directly on the oven rack for a further 5 minutes. If using a ready prepared base cook the pizza for the suggested pack instruction time.