Ahead of a public event in August, Nick went down to try the Lakedown Brewing beers, along with food from local restaurant hero Curlew.

Driving ever deeper into the lush countryside, and into the heart of the Wealden valley with the road narrowing to single track, I begin to count the Ukrainian flags flying in fields and from hedges

I note at least fifteen before I stop counting. I am all for siding with Ukraine, but this is remarkable.

'Isn't it?' says Jamie a little later, as we sit outside of The Taproom by his gorgeous trout fishing lake, one of four spring-fed lakes here, with the sun beating down and good smells coming from the Big Green Egg being tended by Will Devlin the Head Chef and owner at the Curlew in nearby Bodiam

'It's simple solidarity,'he says. 'So many people around here have taken in refugees, there's a real sense of community effort.'

Community is very big in this part of beautiful East Sussex. 'We small brewers are friendly rivals", laughs Jamie as we contemplate our first course and our first beer, 'we help each other out when we can.'

Lakedown Brewing is itself a kind of cooperative effort. Usually a pay-to-fish family-owned trout lake, 'fly only!', it found itself underused during the pandemic. Through a chance pint brothers-in-law Jamie Daltrey, Christopher Rule and Des Murphy met Steve, the brewer and a project began.

'We brew modern and traditional beers in can, bottle, keg and cask, using the best ingredients, giving the beer the time it needs for a full flavoured end product. Our beers are easy drinking, sessionable and super fresh.' explains Jamie. 'All our beers are vegan and most styles are gluten free too' he adds, as we tuck into a duo of Pork Belly Miso Skewers, fresh from the Green Egg, paired with Lakedown's tropical, sessionable Vermont Pale.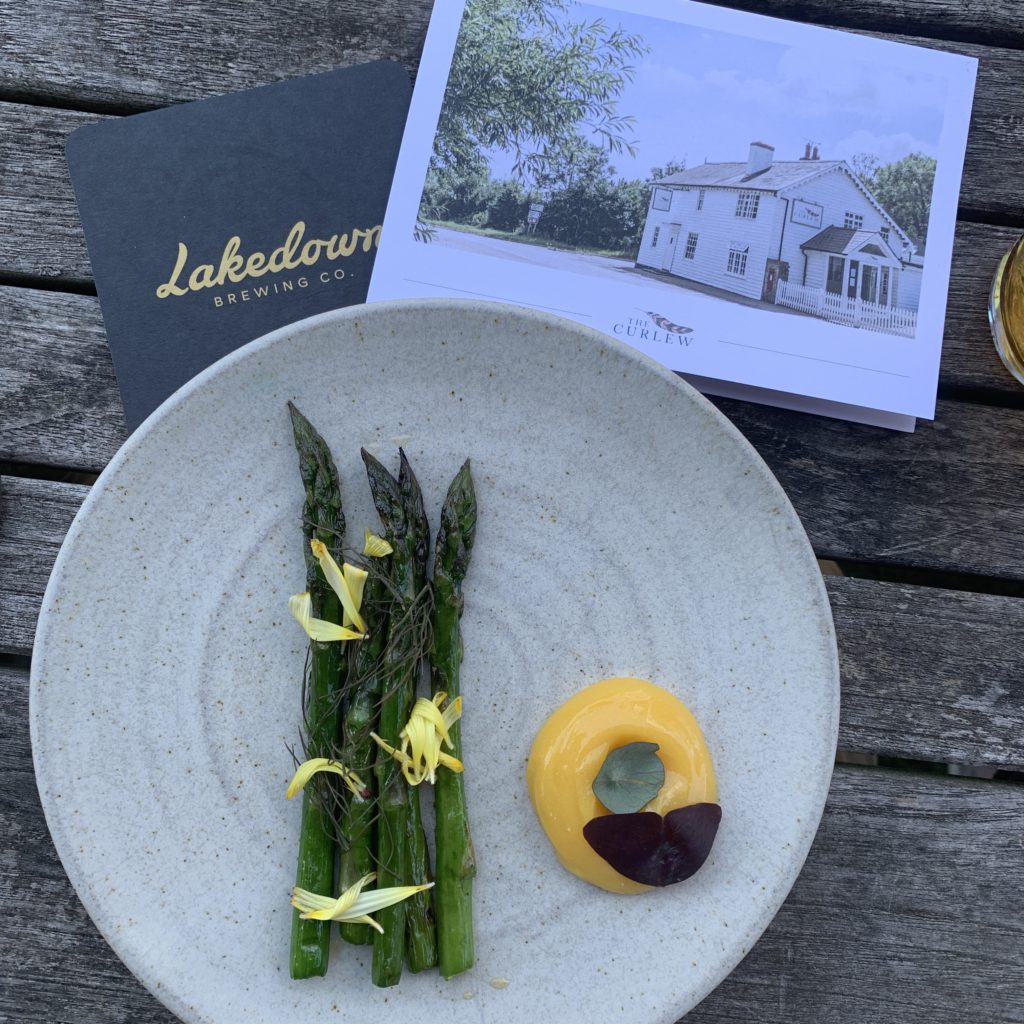 Their Vermont Pale Ale (3.8% ABV) is a light-coloured New England Pale style beer using Citra, Mosaic and Amarillo hop. The tropical flavours work great with the superb belly which is just fatty enough. It's a good start.

I ask about the lakes, are they original? Jamie tells me that in the 1970s his dad bought a bulldozer and, wanting something to do with it, began a project to dig out the existing small ponds and enlarge them to make a trout lake. Is his dad Jeremy Clarkson I wonder? No, better than that, his dad is Roger Daltrey.

A second course arrives, brought out by Will personally to tell us that it's local asparagus with a confit egg yolk. It's simple and simply perfect, exactly what Curlew does so well. The beer is Lakedown's classic pilsner, its crunchy, crispy, freshness is perfect against the rich egg.

No time to waste, we move on to trout that has made the short journey from the lake, to the Egg and onto our plates. Served with a range of Curlew's home-made pickles, and a dob of local sour cream, it's screamingly fresh and the interplay of trout, vinegar and cream is superb and a great partner for the Pale Ale made with English Cascade and Ernest hops. Bottle-conditioned and not too hoppy, this is a beer for a session and so I am sorry I have to drive later.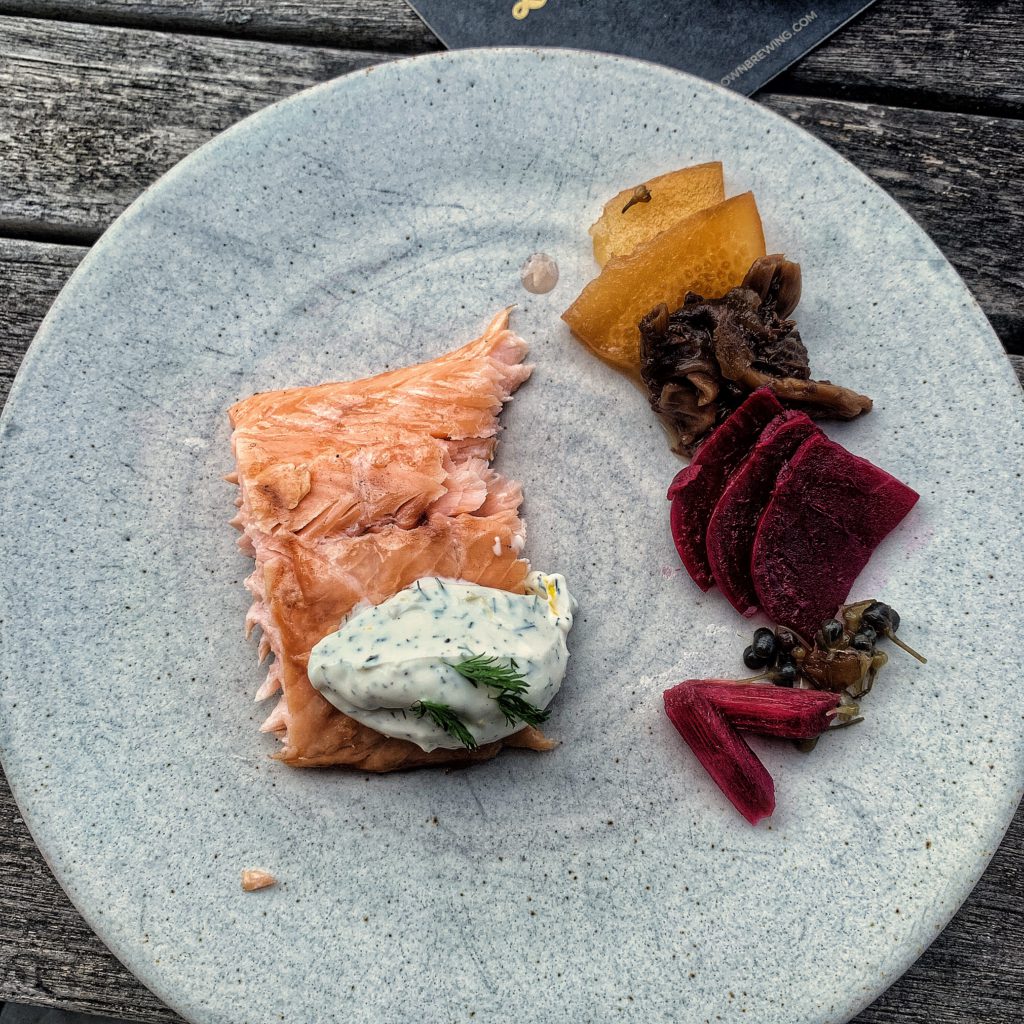 The Taproom by the way is a charming place, a simple 'hut' with a classic tin roof and a large chimney. Outside on a sunny day it's wonderful, but inside it must be very cosy when it's cold. All the Lakeside beers are on offer here, in keg, bottle and tins.

BBQ'd whole mackerel come out, fresh from the nearby coast. I'm not a mackerel fan usually, I find the flavour too strong but I like this a lot. It gets washed down with NEIPA,a New England IPA, using Citra, Mosaic and Centennial hops. LIke most of their beers it is vegan friendly.

This is because it doesn't use Isinglass to dehaze the beer, because Isinglass is obtained from the dried swim bladders of fish.This means their resulting beer is cloudy, but that's simply cosmetic and the taste is unaffected.

We end on a substantial and superb main – BBQ'd hogget with wild garlic, new potatoes and barbecued Hispi cabbage which, Will explains, has been brined overnight so it takes the BBQ heat without burning up and becomes sweet and charred.

The mutton, or hogget, was a revelation. Hogget is actually lamb in its second spring or summer, and that extra time out on the grass gives it a richer flavour that's not as heavy as mutton. It was perhaps the best lamb I have eaten this, or any other, year.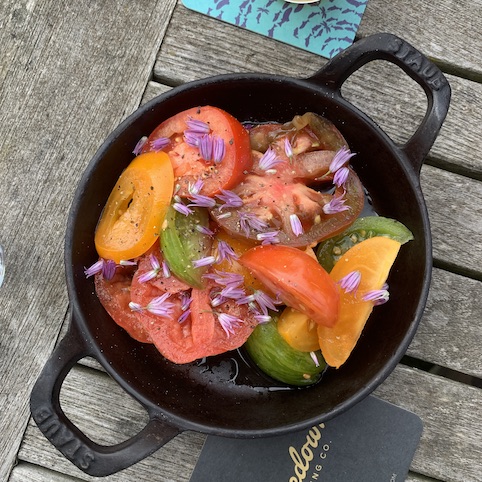 It needed a full-bodied beer and it got it with American Red, a mix of caramel, fruit and spice made with Mosaic, Magnum and Centennial hops. An absolute stunner.

Having kept my consumption of beer light, I was soon able to safely and legally drive away, after a short break in a comfy chair by the lake of course.

Passing by the Ukrainian flags again it seemed an obvious message to end on. Lakedown Brewing  is flying the flag for local, quality, interesting beers and are to be commended and celebrated. What started as a pandemic 'something to do', has become a proper business with a great product.

Your turn:

LUNCH BY THE LAKES
Lakedown Brewing Co beers paired with tasting menu cooked by chef Will Devlin

Award winning East Sussex restaurant The Curlew will be serving a delicious, locally sourced, seasonal six course tasting menu, each course paired to our locally produced Lakedown beers. There will be two sittings, one at 1pm and another at 5pm. 26 people per sitting. Guests must book and pay in advance. Please note, depending on weather, there may be communal dining should the event have to take place inside.
Saturday 13 August 2022
Reservations https://www.opentable.co.uk/booking/experiences-availability?rid=257604&restref=257604&experienceId=85670
Lakedown Brewing Co.
Swife Lane
Burwash
East Sussex
TN21 8UX
Nearest station: Stonegate