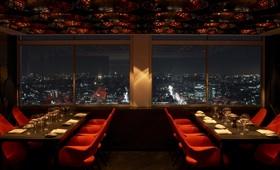 Paramount Restaurant and Bar at Centre Point on London's New Oxford Street is serving 2 exclusive new cocktails during London Cocktail Week 11th-17th November.
Based at the top of the iconic concrete tower that is Centre Point, Paramount Restaurant and Bar gives drinkers the joy of looking out at the spectacular view over the West End whilst enjoying the new Bombay's PBJ and 3 King Swizzle cocktails whipped up especially for London Cocktail Week.
Bombay's PBJ is "a gin based cocktail inspired by the synthesis of peanut butter and jelly. It comes served in a jar over crushed ice and garnished with a Bombay jelly cube and a peanut brittle chunk. As well as peanut butter, the Bombay's PBJ contains fraise de bois and butterscotch syrup mixed to create an indulgent treat."
The King Swizzle cocktail is "an exotic and refreshing mix of Bombay Sapphire, Noilly Prat Dry Vermouth and Aperol set off with fresh lemon juice, orange and kumquats served tall over crushed ice."
As well as getting in on the exciting London Cocktail Week action, guests can also order something to eat from the British inspired autumn menu created by head chef Colin Layfield.