Chicken, Olive and Sweet Potato Tagine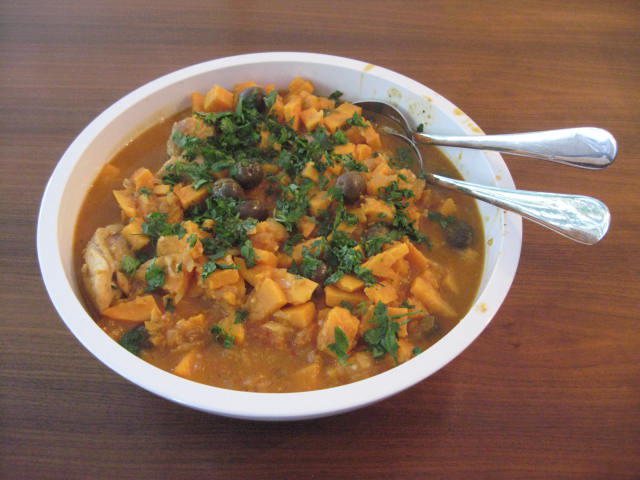 A tagine is the true heart of Moroccan cooking. It manages to be sweet, spicy, fruity and tangy all at the same time and to cook one at home will fill your kitchen with unbelievably delicious smells.
The key to a good tagine is to use whole spices that you grind yourself in a spice grinder or mortar and pestle, and to let it braise slowly and gently which helps develop the flavours.
Preserved lemons are an essential ingredient in a tagine and add a tangy, perfumed and slightly astringent note which is unmistakably North African. You can buy preserved lemons in better supermarkets or if you are feeling adventurous you can make your own by following the recipe below.
I think a tagine tastes its best served warm rather than hot after it has had a chance to cool and thicken a little. Or better still, make enough that you have leftovers to enjoy the next day when it will taste even more delicious.
Serves 4 – 6
Ingredients
4 ripe tomatoes
10 chicken thighs the bone, skin removed
Sea salt and freshly ground black pepper
50 grams of flour
4 tbsp vegetable oil
2 large onions, finely chopped
5 cloves of garlic, minced
A 2 inch chunk of ginger root, peeled and grated
2 tsp harissa paste (or more to taste)
500 mls of chicken stock
1 generous pinch of saffron threads
2 sweet potatoes, peeled and cut into bite-sized chunks
A small chunk of preserved lemon, finely minced
A handful of firm green olives, unpitted
Sea salt and freshly ground black pepper
A small handful of coriander leaves, coarsely chopped
Spice Mixture
1 tsp fennel seeds
1 tsp cumin seeds
1 tsp coriander seeds
1 tsp paprika
Instructions
To make the spice mixture, place the fennel, cumin and coriander seeds in a dry frying pan over low-medium heat. Toast the spices for 3-4 minutes until fragrant then grind them to a fine powder in a spice grinder or mortar and pestle. Remove to a small bowl and stir in the paprika.
Cut an 'X' on the bottom of each tomato and place in a heatproof bowl. Cover with boiling water and set aside for 4 minutes. Drain and cover immediately with cold water to loosen the skins. Gently peel the skin off each tomato and coarsely chop.
Rinse the chicken thighs and pat dry with kitchen roll. Season the chicken generously with the salt and pepper. Place the flour on a large plate and dip the chicken pieces in the flour, tapping them to remove any excess so that each piece has a light dusting of the flour.
Warm the oil in a wide, deep sauté pan on medium-high heat and add the chicken pieces, working in batches if they don't all fit snugly. Cook them for 2 minutes per side or until they are lightly golden. Remove them from the pan and lower the heat. Add a little more oil if the pan is dry. Add the onions, garlic and ginger and sauté gently for 5 minutes or until the onion is soft.
Add the tomatoes, spice mixture, stock, harissa paste and saffron and bring to a simmer. Simmer for 10 minutes, crushing the tomatoes with the back of a wooden spoon to break them up.
Return the chicken pieces to the pan along with the sweet potatoes, preserved lemon and olives and bring to a gentle simmer. Add a little more stock if necessary to ensure that the chicken pieces are nearly covered in liquid.
Cover the pan with a tight-fitting lid and simmer the mixture gently for 40 minutes or until the chicken is cooked through and starting to pull away from the bone. Using tongs, remove the chicken pieces and place in a serving dish.
Increase the heat and simmer the tagine for a further 5-10 minutes or until the sauce is nice and thick. Taste and season the tagine with salt and pepper.
Pour the tagine sauce over the chicken. Scatter with the chopped coriander and serve.
Making Preserved Lemons
Making preserved lemons is easy and although you can buy them, it is quite satisfying to do it yourself. Try and get the best lemons that you can. At places like Borough Market you can find some of the old-fashioned lumpy, bumpy varieties like Amalfi from Italy or Spanish lemons which are perfect.
Once you start preserving lemons, you can also try preserving other varieties of citrus like limes, oranges or even blood oranges and kumquats when they are in season. All are traditional in the North African kitchen and a small chunk minced up adds a nice, tangy, citrusy flavour to marinades, stews, and even salad dressings.
Makes 1 jar
Ingredients
6 or 7 small, unwaxed lemons
120 grams coarse sea salt
a little water or extra lemon juice if necessary
Instructions
Wash the lemons thoroughly and dry them. With a sharp knife, slice the each lemon from end to end without slicing the whole way through, doing this a quarter turn each time so that you have 4 long cuts running down the sides of each lemon. (This will help the salt to penetrate the lemon).
Sprinkle a few teaspoons of the salt in the bottom of a sterilised glass jar (ideally one with a plastic lid as metal lids tend to corrode with the effects of the salt). Tightly pack 2 layers of lemons into the jar and sprinkle over half the salt. Press down on the lemons firmly with a wooden spoon to extract their juice so that it mingles with the salt. Pack another 2 layers of lemons in to your jar, sprinkle over most the remaining salt leaving a few teaspoons aside and press down again with a spoon to extract a good quantity of the juice. Scatter the top of the lemons with the remaining salt.
If the lemons are not covered in juice, top up with a little water or extra lemon juice. Clamp on the lid and let the lemons sit at room temperature for 5 days, turning the jar upside down to rotate it once a day.
After 5 days, place the jar in the fridge and rotate it by turning it upside down every few days for 3 weeks or until the rinds of the lemons are tender.
To use the lemons, remove the desired amount and chop finely. I like to use the whole lemon and not just the peel without rinsing, but you can rinse them and discard the lemon flesh if you prefer.
Preserved lemons will keep in the fridge for 6-8 months.