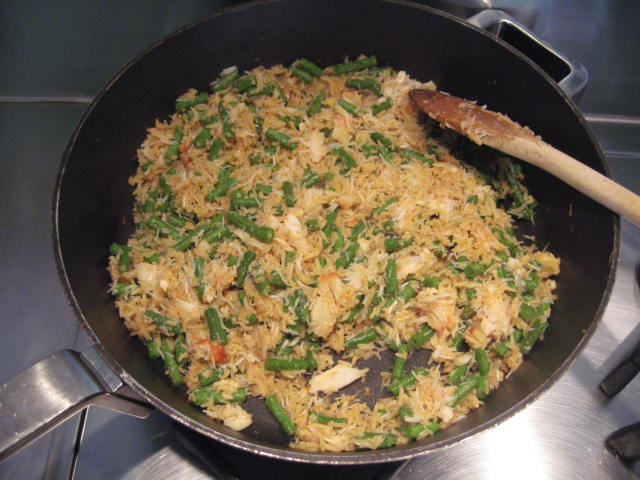 Traditionally a way to use up leftover vegetables and scraps of meat, fried rice is a quick and cheap way to feed a hungry crowd.
This version is a little more decadent using fresh, handpicked white crab meat and a homemade Thai chili jam. The jam will make enough to make for this recipe four times over and keeps easily in the fridge or freezer.
When buying crab meat, try and ensure you get unpasteurised crab which is sweet and delicious. It is expensive, but worth it if it saves you the labour intensive hassle of having to shell and pick through a crab yourself.
Handpicked crab meat can be purchased at the fishmongers at Borough Market or through the Dorset-based company Portland shellfish.
Serves 4
Ingredients
2 tbsp vegetable oil
a medium bowl of cooked, leftover rice, ideally jasmine
3 Asian long beans, topped, tailed and cut into 2 inch segments
a 250 gram pack of handpicked, unpasteurised white crab meat
Chili Jam
1 large onion
6 small shallots
12 cloves of garlic
20 dried red chilies
2 tsp shrimp paste
One inch chunk of galangal
100 grams palm sugar, grated
8 tbsp vegetable oil
100 ml fish sauce
Instructions
Make the chili jam by placing the onion, shallots, garlic, chilies, shrimp paste and galangal in a food processor. and process until it is a thick paste. Warm the vegetable oil in a wok or wide sauté pan on medium high heat. Add the paste mixture and cook it, stirring frequently for about 5 minutes or until it darkens slightly and the onions and garlic no longer seem raw.
Add the palm sugar, reduce the heat slightly and cook until the palm sugar dissolves. Stir in the fish sauce and remove from the heat. Set aside.
In a clean wok or wide saute pan, heat the 2 tbsp of vegetable oil and add the rice and long beans. Stir fry, moving the rice and beans frequently until the rice is hot and the beans are nearly tender but still crisp.
Make a well in the centre of the rice and pour in about 1/4 of the chili jam and the crab meat. Stir fry the mixture, fluffing the jam and crab meat through the rice until it is well combined. Taste and add a little more of the chili jam if desired. Serve immediately.