Last Easter I spent 2 weeks in China studying at the Sicuan Insitute of Higher Cuisine in Chengdu and learned to make these dumplings. In my classes at Eat Drink Talk we make dim sum pastry by hand but it is also fairly easy to use store-bought dumpling wrappers. The crimping technique can take a little practise to perfect but it isn't as difficult as it sounds.
The filling for these dumplings is typically Szechuan – the Szechuan peppercorns have a tingling, numbing flavour that is quite addictive. You'll soon find yourself ladlling them over your food with abandon just like the Szechuanese!
Makes several dozen dumplings
Ingredients
250 mls soy sauce
1 tsp fennel seeds
3 cardamom pods
2 star anise
1 piece of cinnamon bark
2 tsp palm sugar, finely grated
500 grams finely minced pork
a one inch chunk of ginger, minced finely
1 tsp finely ground white pepper
1 tbsp coarsely ground Szechuan peppercorns
4 spring onions, finely minced
1 tsp salt for cooking the dumplings
a pack of round dumpling wrappers
Instructions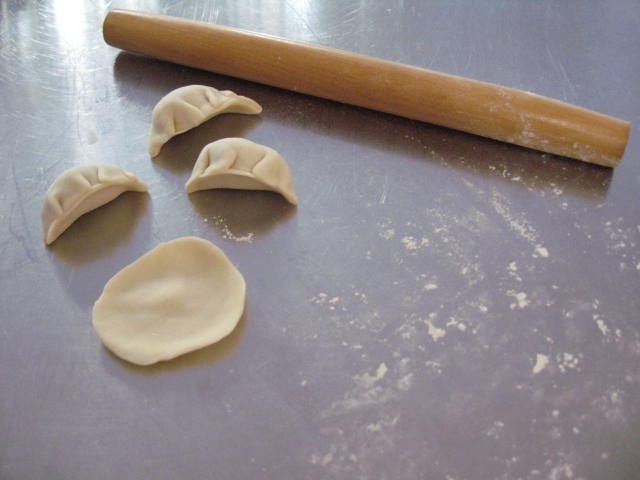 In a small saucepan, combine the soy sauce, spices and palm sugar and bring to a gentle simmer. Simmer for 20 minutes or until reduced by just over half. Allow to cool slightly, then strain out the spices and pour over the pork. Combine the pork with the remaining ingredients and mix with your hands until well combined.
Place a dumpling wrapper in the palm of your hand. Place a teaspoonful of filling in the centre and fold the dumpling wrapper in half across the filling, lining up the edges but without sealing them.
Begin to pleat the dough by making a little 'wave' of the dough between your thumb and second finger with the top fold of the dough, leaving the bottom fold untouched. Gently pinch the dough against the lower fold of the dough until it forms a seal. Do this two or three times on one half of the dough and then again on the other half, forming your pleats so that they face towards the centre of the dough.
When you have finished pleating the dough, ensure that you have a firm seal by firmly pressing the seal between your thumb and second finger. Place the dumpling on a sheet of parchment paper. Continue filling the wrappers until you have used up all the filing.
Bring a large pot of water to the boil and add the salt. Add the dumplings and give them a quick stir to separate any that have stuck together. Boil the dumplings for 6 minutes or until cooked through and serve hot.