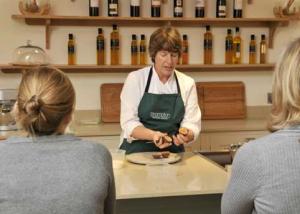 A unique blend of country chic and contemporary design, Brompton Cookery School is the first of its kind on a National Trust property and offers fledging cooks a genuine opportunity to reconnect the food they prepare to the land from whence it came. Caroline Sargent puts on her pinny and goes back to the classroom.
Whether you put it down to the gamut of celebrity chefs, hard-hitting Government campaigns or gluttonous food programming like Masterchef and River Cottage, more and more Brits are rediscovering the joys of messing about in the kitchen and, as a result, bookings for cookery classes and 'field to fork' expeditions are on the up as people yearn for knowledge and new skills.
Spotting a ripe opportunity to expand upon her already successful luxury farmhouse B&B, located on the Attingham Estate near Shrewsbury, Philippa Home sought and won the backing of the National Trust to convert a series of barns and outbuildings into a state-of-the-art cookery school, the only purpose built facility of this type in Shropshire.
'I'm passionate about good food," exclaims Philippa, founder and director of Brompton Cookery School, as she shows me round her garden with its well tended veg patch, orchard, herb borders and chicken run. 'One of the key reasons why this project has been embraced so enthusiastically by my business backers is that from the very outset I wanted to achieve a culinary experience of the highest calibre that showcases the best artisan produce from our region."
A peek in the vast larder verifies her local supplier connections. There's meat and charcuterie from Wenlock Edge Farm, rapeseed oil from Great Ness Oils, Wenlock Spring Water, Pimhill Organic Flours, a range of hard cheeses from The Shropshire Cheese Company and a cellar of quality booze courtesy of award winning wine merchants, Tanners.
The courses at Brompton are many and varied and guests can choose from a range of day, half day and week long courses as well as evening classes and bespoke cookery courses tailored to your needs. There are courses for novices and advanced cooks, teens heading off to university and children who want to get hands-on in the kitchen.
For those less keen to get their hands dirty but who seek a fine dining experience with a difference, there are the Demo and Dine events where a roster of local and visiting chefs from award-winning restaurants demonstrate a range of sweet and savoury dishes while you munch canapés and swig champagne, before sitting down in the elegant dining room to devour the lot. If you get too tipsy to drive, bag a room at the B&B next door and make it a mini-break
At Brompton you can learn any number of new tricks, from how to prepare a magnificent three course Sunday Roast complete with fluffy, high rise Yorkshire puddings, to devising stylish vegetarian menus and, one for the boys, basic butchery and getting to grips with game.
If the start of the game season stirs your soul, Shropshire is the place to be. Philippa's links with neighbouring farmers and gamekeepers means she can organise for you to join a pheasant or grouse shoot, before adjourning to the kitchen to cook up the spoils. There can be no finer example of 'from field to fork'.
Groups are welcomed with open arms at Brompton and the facilities have been designed to take 16 people with ease, each station equipped with everything you could possibly need from a Falcon range to Le Creuset cookware, making this a novel and rather grown-up alternative to, say, paintballing (ouch!), if you want to plan a stag party with a difference or a corporate away day. The recent launch of the Brompton School of Wine also means you can brush up on your Barolos and Burgundies under the expert tutorage of a master of wine, such as Delicious magazine's Susy Atkins. Courses and special events are held throughout the year.
Cookery courses begin with a warm welcome, tea or coffee and delectable homemade biscuits, then Chef gets to work demonstrating a dish to the assembled throng and wanders the room providing one-on-one supervision while you take your turn. There is even help with the washing up – something I wish I could get on tap in my own kitchen.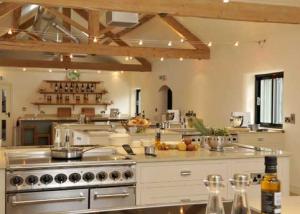 'The idea behind this cookery school is to give people a fantastic experience and send them away with useful new skills and memories of a fun day," explains Philippa. 'We're not into lecturing and shouty chefs here! Guests can ask questions any time during the course and get to know each other over a great meal and glass of wine at lunch."
The atmosphere is certainly convivial and my fellow students are a jolly bunch, some having travelled across the county borders from Wales and Cheshire to attend the day. One lady has brought along her teenage daughter, keen to get to grips with the art of soufflé making and char grilling the perfect peppered steak. At 18 years my junior she puts my attempt at a honey panacotta to shame but I bear no grudges. It's heartening to see someone of her age getting into the spirit and enjoying cooking for herself. She's going to be one popular girl when she gets to university halls.
Devising classes for family groups was high on Philippa agenda when planning Brompton's course programme. 'For whatever reason, some families have forgotten how to prepare food together and sit down around the table to enjoy a good meal. I wanted to include some courses where kids were actively encouraged to get stuck in, get covered in flour and be able to taste something they had made themselves that day
'In the process many of the parents rediscover how to do old favourites like bake fairy cakes, biscuits and bread. But there's no naming and shaming. You take what you want from the day and at the end you get to keep your Brompton pinny and all the food you made that you couldn't eat."
A cookery school that does doggy bags. Bourgeois and recession conscious at the same time.
~~~
To whet your appetite, take a look at the course programme at www.bromptoncookeryschool.co.uk or telephone 01743 761629 for a brochure. For B&B enquiries visit www.bromptonfarmhouse.co.uk