22 Charterhouse Square, Charterhouse Mews, Smithfield, EC1M 6DX www.cafedumarche.co.uk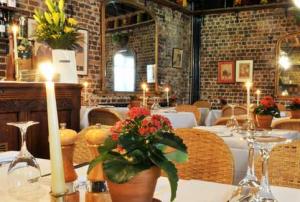 Le Café du Marche has been in Clerkenwell so long you half expect to find Peter Ackroyd excavating the cobbles outside. This area is steeped in history, so perhaps it's only fitting that one of its best restaurants has been around a while too.
First you have to find the place though. My guest G is stabbing at his iPhone map and looking increasingly desperate when I come across him in a neighbouring street. The sun is belting down and it's making him very cross trying to find the restaurant on his glare-filled screen. Luckily I can see a sign over his shoulder, Le Café du Marche is in fact cutely located down a little alleyway almost invisible to the casual glance.
Inside Le Café du Marche you don't feel lost, you feel right at home; this is a tranche of France that is as Gallic as surrendering without a shot. The walls are bare brick and you can scent the cooking on the air, something sadly lacking in restaurants where the trendy chef is cooking via Twitter. Tables are close enough together to make the waiters go 'on point' as they squeeze through and the maitre d' has the ever swivelling head that's tells you that professional service comes as standard. It's packed with happy lunchers.
The menu is monumentally traditional and, apart from the daily specials, it gives off the air of 'not broken, nothing to be fixed'. A three-course lunch is £33.85; the two courses £27.50 with the odd supplement. G earnt himself one of those, an extra £3 on our bill, by going for the pan-fried foie gras with pommes pailles and a poached egg. The menu veers erratically between French and English, so that whilst the poached egg bit is clear enough, the pomme pailles need translation. Not apples of course but shoe string potatoes or straw 'paille'. Very good he said circling his knife in the air for emphasis.
I had Soft Roes on fougasse bread a la dijonaise and it (they) were glorious. The large, slippery roes are like a fishy version of sweetbreads, inclined to run away from the knife and your teeth but once caught releasing a subtle flavour. The contrast between these and the crunchy radishes and spring onions was perfect while the subtle bite of Dijon mustard ran smoothly through it all.
The poisson of the jour, or the day's poison, as my dad use to cheerfully refer to it, was sea bream which came crisply fried and that's about all I can tell you as I was head down in my own mains. I toyed with Poached chicken aioli because I do love garlic and had half a mind to have the fiercely franglais Navarin of lamb printaniere but instead plumped for pork.
The confit pork was 'aigre doux', sweet and sour, which sounded better in French and didn't make you worry your pork might turn up drowned in a sticky sauce of virulent, artificial, redness. A tart, perfectly dressed green salad went well with the crispy-skinned pork which was tenderly cooked by the slow braising it had undergone. Crackiing crackling. Gromit.
Strawberry baveroise was fine, a little too sweet and sugary for my taste and rather too pink in a Barbi's best dress kind of way. A bit childish. I should have had the cheese instead which looked far more grown up as it went past seductively spread out on a board.
That aside we left more than satisfied with our lunch. Le Cafe du Marche is unpretentious, assured, calm, busy, buzzy and above all tasty. In a London learning once again to love quality and consistency over flash in the frying pan pyrotechnics this well- polished place has a real shine to it.