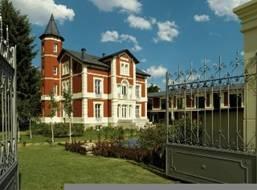 Hospes Hotels are offering authentic Catalan cookery courses at their 5 star Villa Paulita in the region of Cerdanya in the heart of the Spanish Pyrenees. The first cookery class focusing on sourcing and cooking wild forest mushrooms, is set to take place on the 25th and 26th of October.
Let's be honest, if you want to learn a new skill you may as well do it in the fine surroundings of a posh hotel! The Hospes Villa Paulita is an Art Nouveau 5 star hotel set amidst a forest of firs on the bank of the stunning Puigcerda Lake. With just 38 rooms Villa Paulita is an intimate hotel rural hotel where guests can escape the hustle and bustle of daily life.
The cookery course will be hosted by Josep Maria Maso, head chef of the hotel's gourmet Senzone L'Estany restaurant. Born in the same Spanish region where the hotel is located, he'll be putting his expert knowledge of the local ingredients to good use by creating inspiring dishes for guests to cook.
Participants in the course will be foraging for their own Ceps mushrooms (one of the world famous mushroom varieties the Cerdanya region is famous for) and chef Josep Maria Maso will use them in the dishes he makes for the gourmet five-course dinner, served with perfectly matched wines, that evening.
Prices start from £357 per person which includes; 2 nights stay at Villa Paulita, welcome drink, breakfast, cooking courses, lunches in the kitchen, 2 gourmet dinners at the restaurant and entrance to the spa.
The Catalan Cookery course will run from 25th-26th October, but there are two more cookery courses to come at Hospes Villa Paulita. For more information go to