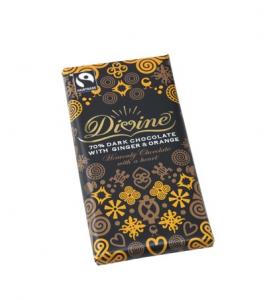 When it comes to ethical chocolate there's no company more synonymous with Fairtrade than Divine Chocolate. What with it being Chocolate Week and all, we thought it was worth bringing to your attention Divine's Dark Chocolate with Ginger & Orange; a delicious chocolate made by the people for the people, in more ways than one.
In fact, Divine's relatively new Dark Chocolate with Ginger & Orange bar has been added to their extensive range after they looked into what it was that chocolate eaters wanted from their products. Charlotte Borger of Divine Chocolate explains, "We love creating new flavour combinations with Divine Chocolate! We've been listening to our customers who have been asking for dark chocolate with orange and dark chocolate with ginger – so we have combined the two. We've given a different twist to the citrus-spice flavour mix and we think it will be a big hit with chocolate lovers."
I tried the Dark Chocolate with Ginger & Orange this week and it surpassed my expectations in pretty much every way; the chocolate was dark but still creamy, the flavours of ginger and orange saturated every little square of the bar and instead of being a background suggestion, gave the chocolate a proud and definable Christmasy taste.
This ginger and orange chocolate is the 12th flavour to be added to the 100g bar range and is made with Divine's acclaimed 70% chocolate which uses the finest Ghanaian cocoa beans tended to by the members of the Kuapa Kokoo co-operative.
The Kuapa Kokoo is a co-operative of 45,000 cocoa farmers in Ghana who not only benefit from the Fairtrade premium on the sale of their beans but also pocket 45% of Divine's distributable profits. This gives the farmers more economic stability and an increased influence in the cocoa industry that company ownership brings.
For me Fairtade food is a lot like designer clothing; The way you walk changes when you wear something of high quality much in the same way the way you eat alters when you buy Fairtrade products. It makes you enjoy each morsel and safe in the knowledge no one has been exploited in its creation, you can savour the aromas and think about the flavour components in each bite.
Divine's Dark Chocolate with Ginger & Orange is priced at £1.69 and is available from Sainsbury's, so why not enjoy Chocolate week with a clear conscience this year!