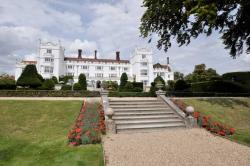 Ok, despite accusations levied at Trip Advisor that far too many hoteliers post up fake reviews, I'm still a fan – mainly admittedly for the readers wives style pics, zooming in on the dodgy paintjobs and broken light bulbs (all that cash siphoned off by the marketing men with their glossy websites – and then Angry Anderson of Huddersfield unearths the true picture, quite literally. Priceless).
I also feel that when it comes to the reviews themselves, I'm a dab hand at sifting the truth from the chaff. So yes, Trip Advisor still gets a few scant hits in our household. But it did bother me slightly that Danesfield House(I've just found out) has been ranked third in the already somewhat depleted 'hotels in Marlow' category (pipped to the gold by WAG-weary The Compleat Angler; don't even ask who came second).
Danesfield House you see really is a little gem – in more ways than one. Let me explain.
First to the kitchen and step forward please executive chef Adam Simmonds, who's just retained his Michelin star as well as been placed very respectably in the 2012 Good Food Guide (currently positioned at no.12 ). For CV-seekers, Adam's both paid his dues and done the rounds (Le Gavroche, Le Manoir, Les Sauveurs…) While I confess my visit sadly didn't coincide with an Adam 'shift' (I arrived on a non-chef'y Sunday night – pah!) the menu, if not the foodie buzz, will definitely entice me back. I quite fancied the sound of Roasted Loin of Venison, Parsnip and Blue Cheese, Caraway Croquettes, Chestnuts. For dessert: Buttermilk and Honey Ice-cream, Clementine, Honey Mousse, Dried Almonds. Sounds good huh? As it happened, the chef on shift turned out a very respectable Sunday evening dinner – but I would've loved to have had the fuller foodie experience.
Elsewhere at Danesfield, other boxes are ticked, effortlessly. Plaudits firstly for service – which was exemplary. At the main door I had one of the warmest and most sincere welcomes I think I've ever received (bar the day I offered to look after all three of my friend's psychotic kids for the night) and this formal but friendly vibe (think Downton Abbey meets door-greeters at GAP) weaved its cheery path pretty much throughout the entire building: in front lobby – there's another doorman, smiling; the reception area – two pretty girls, also smiling and now enquiring about the weather; and up two flights of stairs where even the guests were smiling. I'd also be doing this piece a huge disservice if I didn't mention Peter, the Guest Relations Manager (if ever there was a man for the job…) For me it's these things that create the true hotel experience – not who designed the rooms (etc). Though as it turns out, Anouska Hempel designed the Dining Room, and very nice it is too.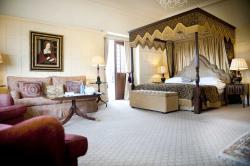 Our bedroom was vast and opulent and everything else you'd expect upstairs, having seen downstairs. Most importantly the bed was blessedly comfortable – thank God (I'm still amazed at how many hotels get everything right BUT THE BED).
The main lounge is – sorry no other word for it – sumptuous. I believe my exact tweet was 'go for G&Ts by the fire" – and (psssst) there's even a games room upstairs complete with full size snooker table.
The grounds are – more hard worn clichés – magnificent. If you're a walker, as I am, there are over 60 acres in which to lose yourself. (I tried, but the kids kept finding me).
Plaudits too for the spa. Sadly this whistle-stop visit precluded the facial I was hankering for – but the pool was spacious and the overall atmosphere perfectly Zen-like, which I think is what a spa generally tries to achieve. Product junkies will be pleased though to note that Aromatherapy Associates is featured in-house. I've made a mental note to return.
Finally, the price. Considering Danesfield feels in every sense a 5 star experience, the rates are in-keeping with its 4-star stature. Rooms start at £159 B&B. Not bad at all considering it's a stone's throw from the big smoke (45 minutes to be precise) so almost could be part of a city break (er, in the country). What's more it's just 30-odd minutes drive to Heathrow Airport – assuming the M4 isn't playing up (a little 'impress the other half' pre-holiday tip there).
And while it does seem crass to name check another chef, it can't be ignored that Danesfield is literally moments from TK's Hand and Flowers. As is posh retail heaven with Marlow's boutiquey town centre (crikey, I could've spent a fortune). Having said all that, you could hole up quite nicely at Danesfield and not feel at all short-changed by staying put, especially if that fire's lit in the lounge (and frankly if the Mrs likes a bit of retail therapy, perhaps that's the most prudent strategy).
A thrill to report back so glowingly. My only real gripe was with the mini-bar (you expect inflated prices but really…that much for a bag of Kettle Chips?!!)
I'll definitely return. Next time hoping to chow-down some of Adam's food, whilst being entertained by that cute doorman, all the while languishing in the swish-looking spa. Don't dreams come true at Downton..?
Danesfield House
Henley Road
Marlow
Bucks SL7 2EY
Tel: 01628 891 010