Charlotte's Bistro, 6 Turnham Green Terrace, London, W4 1QP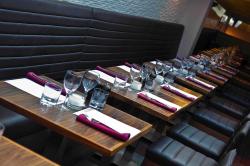 Chiswick's a funny place. Chiswickians are swift to rush to new restaurants, creating an instant impression of a long-running hit. But, as recent short-lived misses show, they are just as fast to walk away. They don't like being patronised. Silly prices for mediocre food they could cook better at home (Gordon Ramsay at The Devonshire, Villandry, FishWorks); tired, unimaginative menus (Balans, Ground); and over-ambition (the sprawling expanse of Marco Pierre White's Frankie's in an intimate and conservative London village) are just not on – though mediocre prices for mediocre food (the dismal Café Rouge and Brasserie Gerard) ensure some survive, surprisingly.
When Charlotte's Bistro opened on Chiswick's foodie street, Turnham Green Terrace, it came with a little baggage: the reputation of its older sibling. Charlotte's Place in Ealing was, to many Chiswick residents, pretentious, fussy, trying too hard but failing to be cheffy. That does not go down well in down-to-earth W4. Chiswick people reward natural talent not forced flair. We all cook – with a greengrocer (Andreas Fine Fruit & Veg), a butcher (Mackens), a fishmonger (Covent Garden Fishmongers), a delicatessen (Mortimer & Bennett), a chocolatier (Theobroma Cacao), and a smart cook chop (Whisk) we couldn't not. We eat well enough at home not to have to put up with eating badly out.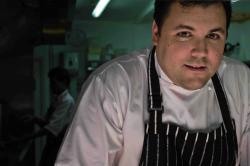 After a slightly shaky start (Charlotte's Bistro opened with a ridiculous table-turning policy, hurrying us out in a way that even down the road Michelin-starred La Trompette never did) Charlotte's Bistro has embedded itself into Chiswick life. Being awarded a Michelin Bib Gourmand last year put chef Wesley Smalley firmly in his place – and we all want to join him.
On 23rd January, he's hosting a game night – and you should get there like a shot. Seven courses, extraordinarily well executed, not one a dud, each matched with a wine to create remarkable pairings. If you can stretch to it in such a debt-ridden month, I strongly recommend it – starting with an amontillado sherry, robust enough to stand up to the big kick of lemongrass and chilli that powered through the dark richness of the game consommé that marks the start of this glorious menu.
The venison tartare was moist and juicy – more so than wagyu. Pepped up by a rich anchovy sabayon and a hint of bitter chocolate this was the most memorable mouthful of meat I've ever tasted (and, yes, I have been to Dinner by Heston). If you miss the game night, book an evening when this dish is on the restaurant's regular menu. Served with a pale and clear but bursting with flavour 2009 Semillon from Washington, USA, this was as near perfect an example of why the red wine with meat, white wine with fish rule is utter tripe.
It happened again – with the next course. Pheasant sausage, enriched with pig fat, served with red cabbage and liquorice purée plus puy lentils was rich, salty, smooth and rough, teasing our palates with juxtapositions. Pouilly Fuissé – who would have thought of that? This one, grown on 75 to 80 year old south-west facing vines in Burgundy, has an intense level of concentration, heightened by spending 12 months in new oak vats.
If I had gone home having eaten only the confit wild rabbit tortelloni I'd have been soaring to the heavens. Its wonderful richness, from the Madeira reduction in the ragu, was balanced by a sweet and salty sauce of Espelette pepper, a mild form of chilli cultivated in the French Basque country. It forced the first appearance of a red wine – a 2009 Nebbiolo Langhe from Piedmont, Italy, light on tannin but full of flavour like a burgundy or pinot noir.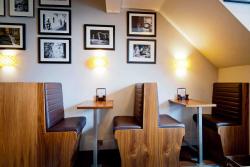 Moist, faintly smoky, slow-cooked venison (with a potato and truffle fondant, ceps and juniper) was the last savoury course before we hit the puds. A cleansing mandarin sorbet, heady with the scent of jasmine, was like a light summer mist (served with an Austrian Muscat), a gentle lead into the extraordinarily complex Valrhona chocolate, bitter endive, dulce de leche and vanilla milk confection. Warre's 10 year old Tawny port was the final glass of the evening – punchy mouthfuls with a huge aftermath. Which sums up this evening – and Wesley Smalley's award-winning skills.
Charlotte's Bistro game night
Date: 23rd January 2012
Menu: £58 per person
Wine pairing menu (optional but I recommend you do): £38 per person
To book: www.eventelephant.com