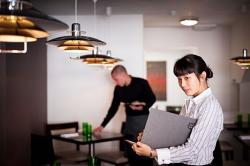 It's a cheeseboard, but not as we know it. Not in London anyway, where menus regularly offer a selection of mainly French cheeses, that pong the clammy air through their mouldy greeny-blue pores. Snooty. Like the French.
Roganic's cheeseboard is impressively British. Most of the selection is represented by England and without the famed obvious Montgomery's, Keens, and Stilton. Instead there's: Chilcote, Wigmore, Cornish Yarg, and Harbourne Blue. While the remaining is boastfully Irish: Coolea, Ardraham, and thrown in for good measure, is a Scot: Isle of Mull Blue.
Much of the menu at Simon Rogan's 'extended pop-up" restaurant is local produce, all seasonal and shiny. This will not be a surprise to those who are familiar with Rogan's repertoire at Michelin starred L'Enclum in the Lake District. Foraged ingredients cause a raised eyebrow at stages – the roots, sea vegetables, and edible flowers – and I have to question exactly what is 'meadowsweet' and the lascivious sounding, 'clam juice'?
The 10 course menu is awash with the best of British, from the opening act of 'squid ink paper, aioli, cucumber mousse and linseed' to the deliciously doughy 'spelt and pumpernickel' bread rolls paired with pink Chapel Down Brut Rosé NV. This is followed by an excellent crisp heirloom tomato on 'poached lamb tongue with dill custard'. Tongue and custard is as bold an introduction as you're going to get anywhere. It sounds preposterous, like bollock and saliva, but there it is; listed and working together.
A Clarence Court Braddock duck egg sits on a puff ball mushroom with barley flakes and marjoram. The dish has that rustic, warming allure as the egg breaks and a sunshine yolk runs into the plate. But we're moving along and the palate is lifted from a relaxed state by 'cured and smoked Cornish ling, Watts farm peppers and crab apple,' that appear after the removal of a glass dome, releasing smoke which claims the senses.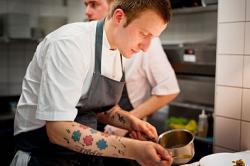 The delicious ling is served as a domino slice with an apple strip wrapped neatly around. This is paired with a Riesling 'Eroica" '08. It's a fine example of seawater fish being used. Ling is interchangeable with cod and should be used more often.
We're only a third of the way through when perhaps the best example of two paired ingredients is introduced: pig and smoked eel. As perfectly put together as a Bob Dylan lyric. Golden parcels like large dice arrive with sea purslane, pickled corn and black mustard seeds. It's a striking dish, black and yellow mustard strips line each side of the plate. Black mustard seeds have a sweet texture rather than hot and pop delicately in the mouth with excitement.
The showcase from the British seaside continued with 'langoustine, purple sprouting broccoli with elder and loganberry oil' flicked across the plate like crimson graffiti. The tail and claw meat of the langoustine was plump and grilled like a prize fighter crustacean, but finished with slightly over-boiled broccoli.
Head Chef Ben Spalding continues to impress in the flowing plates: 'royal kidneys cooked in chicken fat,' 'skate belly and caramelised cauliflower,' and 'Cumbrian rose veal cooked in buttermilk, cobnuts and mead.' Having previously worked at nearby L'Autre Pied as well as stints at 3 star Per Se and Royal Hospital Road, Spalding channels his learnt techniques and experiences into these wild edible dishes.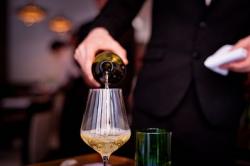 That's not to say that all are a striking success. Some of the picked, ripped, foraged and found ingredients are over-exercised. There's too much required from them, their natural formula is lost. A few plates read as attractive ideas but are impossible to execute, like sex with a mermaid. They are disarmed by their pairings rather than as a standalone ingredient.
More plates, bowls, and demitasse feature: 'Royal kidneys cooked in chicken fat, snow peas, goat's curd and clam juice'; 'skate belly, young beet, caramelised cauliflower and a King scallop,' and 'Cumbrian rose veal cooked in buttermilk, cobnuts, mead and wild cabbage puree' is paired with a Sudtiroler Lagrein '09. To elucidate further would erode my word count, but these are all clever combinations. Deeply seasoned and technical. Lavish in their presentation.
We roll into desserts and the tenth course is put in front of me: 'Ginger Beer' in which crystallised ginger beer is served in a small bowl, like sour Slush Puppy. It's a bum note in the feasting spectacle, but soon shifted from the palate by a combination of 'Bilberries, dried caramel, natural yoghurt and iced lemon thyme'. A fine example of another well-sourced, interchangeable ingredient. Bilberries are related to the blueberry but are softer and juicier, making them more difficult to transport and work with, but a superior option for desserts. They tang the tongue and puck the lips.
Petite fairy cakes are presented with childlike spirit as an amuse-bouche. They're bite-size delights. Warm and spongy. This is followed by a 'white chocolate sorbet with rapeseed, plums, and the said meadowsweet (it's a perennial herb),' and 'warm spiced bread, served with salted almonds, buckthorn curd and smoked clotted cream.' In total I had fifteen courses (10 from the menu and 5 extra hors d'oeuvres, amuse-bouches, and kitchen-teaser-bonuses). A bay leaf milkshake is the final straw. It's the only straw. Clean and fresh with a sprinkle of lemon verbena.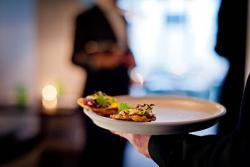 Roganic is picky, both in terms of where the plated ingredients are sourced and how they choose to construct them. Each course is like a well rehearsed act, requiring you to gawp, question and discuss. It's superb stuff, but I want to eat not talk. Over a five-hour seating and 15 courses, there is time for both. But it's not cheap: a 3 course lunch menu is £29.00, the 6 course menu is £55.00, and the 10 course is £80.00 (all without wine). But you'll leave belly teeming and the knowledge of what meadowsweet and clam juice are.
Photography by Paul Winch-Furness