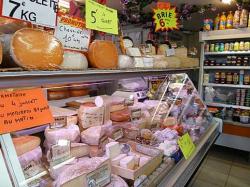 'Ch'ti!" Says everyone in Flanders to us. Ch'ti! This, we're told, is not only a French northern dialect but a word reclaimed for a 2008 hit film called Bienvenue chez les Ch'tis. Ch'tis, often lampooned by the rest of France as rednecks, were treated to a warm-hearted vindication in the film. So we're in Nord Pas de Calais -known as the sticks to snooty southerners – sampling the foodie scene to show our little group that this is a refined bunch. War in Flanders? No, that's history, show us the dinner.
So obviously we're taken to where the Castelain Brewery makes Ch'ti beer at Benifontaine, almost on the border of Belgium. It's an industrial area, a bit prosaic, but with a satellite of 23 microbreweries and an appreciation of its beer that spans the country. Apparently the 'Ch'ti" derives from 'C'est toi," in local dialect or something. Castelain started brewing specialist beer from 1979 including a clean, springy 'Blonde" one, a honeyish amber beer and 'Jade" – France's first organic beer created all the way back in 1986. Beer in France tends to be between 6-12% in alcohol content and that's quite normal – can they be trusted more than us when hammered? Another good local nectar is Three Monts, a tickly strong Flemish beer at 8.5%.
On first arrival in France, we were whisked to Dunkerque (no, shhh!) which has a lively beach bar scene wedged up on the promenade. Hard to imagine the evacuation of Allied troops from here today. We were taken to a little cheese shop where we tried local speciality Bergues Fermier. This young cheese, tangy from being washed daily in beer, was only three weeks old and contained just 20% fat – labelling cheese is a legal requirement here, apparently. The complex, delicious Maroilles cheese, a staple of the region, was to turn up virtually everywhere we discovered later.
Fruit tends to be macerated into many foods in Flanders. You'll find prunes and rhubarb shredded into terrines, pates, juices and wines. Local specialities include rabbit with prunes, or grapes cooked in beer, 'langue de boeuf Lucullus de Valenciennes" (slices of smoked ox tongue lightly spread with a mixture of butter and foie gras), 'goyère" or 'flamiche" tart made from Maroilles cheese and pot-au-feu or stew.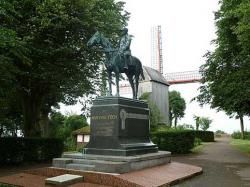 At Le Bonobo, a caff on Dunkerque beach, I had a good but unexciting foie gras maison with melon and sea bass for mains with chips and salad. Dunkerque, says our guide, is ideal to visit being only three and a half hours from five European capitals – Luxemburg, Paris, London, Brussels and Amsterdam. He tells us how the area produces linen which thrives on the rich soil before being sent to China for processing. We digest the socio-economics with our huge café gourmand – pancake with cream, rich chocolate pudding, fruit salad and buttery crème caramele. Later we have a good, if, again, standard, dinner at Le Corsaire restaurant which commands a superb vantage point on the port, looking over the boats in the marina.
Calais, just up the coast, is no longer the booze cruise destination of we Brits so just as well the burghers have something else to shout about. Calais was built on the industrial production of lace. So, as fitting, we visited its new Museum of Lace, a beautiful building fashioned from a 19th century former lace-making factory with a wavy glass and steel frontage. Inside there are hand and machine looms, impressive mannequins bedecked in intricate costume, historical presentations and a temporary collection of bras. Bras and knickers with all their lacy bits nicely on show to remind us how once this fabric which dominated a garment is still, despite its scantiness, used on undies today.
Food again, which was lunch at the restaurant of a holiday village but billed as a typical Flemish restaurant – and perhaps it is. What do I know? Domaine de la heronniere overlooks a lake in which there are bream, pike and carp though sadly not for lunch. We had a rhubarb wine aperitif – so sweet you'd forget it contained alcohol – then a walnut wine whose taste, unfortunately, I've forgotten. Our meal, the equivalent of a Ploughman's lunch, included a Potje'vleesch (see recipe below) which is three white meats, usually chicken, turkey and rabbit, welded together with jelly on which we sprinkled raspberry vinegar. I can't say I was thrilled but I guess they like it here.
I had my favourite Maroilles cheese again, rich and gooey. There was also a Vieux Lille known as the 'puant" or stinker – guess why -with a Pate du nord, all washed down with a Sancerre. Not too much wine as this preceded an envigourating and much pleasurable ride on a Solex, or motorised bike, around the Flemish country lanes and canals. What better way to churn those white meats?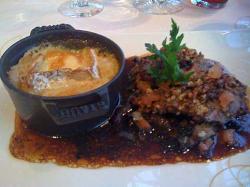 My favourite meal of the trip was in Cassel at Fenetre sur cour, opened just a year and half ago and the only upmarket restaurant in this fortified hilltown I could see. What a quaint, cobble-squared town Cassel is! Its mountain, Mont Cassel, is where the Grand Old Duke of York marched up to the top of the hill. Now there is a still a windmill up there and a statue of Marechal Foch, a supreme commander of the Allied armies in World War I. The 'mont" is just 176 metres high, not surprising as Flanders is as flat as our Chancellor's wit.
Particularly notable on Fenetre sur cour's menu was the Noisette d'agneau au chevre, polenta d'olives noirs et parmensan, jus doux a l'ail, which roughly translated is lamb fillet with goats cheese on a dollop of black olive polenta. What a revelation! Cheese on meat, although McDonalds does it, has always struck me as heresy but this worked excellently, possibly enhanced by a goat's cheese much milder than the smellies back home. It's quite a Flemish thing to put cheese on meat, I'm told. Tonight we were staying at the most fun hotel in town where the Marshall once stayed, apparently. The La Chatellerie de Schoebecque had rooms themed from Moroccan opium den (sans le drugs, bien sur!) to my Chinese Imperial Palace – black and scarlet with mirrors on the ceiling.
Next day we were in Lens, home of the internationally-famed football team. After speeding past the miners' houses – Lens built its fortune on mining, we toured around their slag heaps, now a source of pride and really quite dinky. We also visited the Louvre-Lens, the new wing of the Paris museum slated to open to the public in 2012. It's a bit of a building site at the moment but it's hoped it will up the culture of the region. Lunch was at Au Pain de la Bouche where I was excited to be eating, yet again, cheesy meat. But sadly, the much-anticipated fillet porc avec Maroilles – oh yes – suffered from a surfeit of heat in the owner's anticipation to please. And, a common motif I found of Nord Pas, limp overdone veg.
On our last night, we stayed at La Chartreuse du Val Saint Esprit – a magnificent converted chateau and monastery, now, apparently, visited by UK premier league football teams. We were stowed under the eaves in pretty little suites to keep us away from the raucous wedding taking place that Saturday. In a belle époque dining room that evening, I ate a warm duck pate foie gras with apricots to start, elegant and rustic simultaneously, the apricots cutting through any foie gras fat in a sweet manner. Our main was brought to us with a flourish and looked madly impressive for a steamed John Dory with lemongrass. There was a bath of lemon foam, a bed of quinoa tabbouleh – a trend spotted in other Flanders establishments this trip – and various frippery.
Unfortunately, the net effect was a confused dish, a classic example of trying too hard and getting nowhere. However, I've never seen such a well-stocked and exciting cheese trolley from which I pinched a couple of local favourites such as, um, Maroilles. And then it was back through the Eurotunnel from Lille with a dragoon of Ch'ti, wondering where the rednecks had hidden.
RECIPE: Potje'vleesch
A Flemish speciality from Nord- Pas de Calais
For six people.
Preparation 15 mins, cooking time 3 hours
Ingredients:
– 1 fresh bacon rind
– the wings and legs of a small chicken
– the front and back paws of a rabbit
– 300 g shoulder of veal
– 200g fresh belly bacon
– 200 g shallots
– 1/2 litre dry white wine
– parsley, pepper, spices
Cut the meat into chunks without boning it. Peel the shallots and chop them with the parsley.
In a glazed earthenware terrine, put in the chunks of meat, seasoning each layer of meat and filling the gaps with the chopped shallots and the diced belly bacon. Pack it all down. On top, put the branch of thyme, the bay leaf and the fresh bacon rind. Pour over the white wine until the meat is covered and hermetically seal it with the lid. Put the terrine in a bain-marie in a low oven for three hours. Let the terrine cool down when it comes out of the oven then put it in the fridge for about ten hours before turning it out.
For further information on any of the restaurants/activities, contact :
Pas de Calais Regional Tourism Board
CRT Nord-Pas de Calais BP 99 59028 Lille cedex France
Tel : +33 (0)3.20.14.57.57