Hurworth Place Darlington, County Durham DL2 2DU www.rockliffehall.com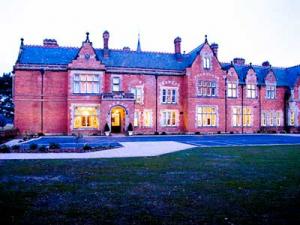 I do love a loo seat that lowers itself. It must be the same gene that makes other men open and close the trays on DVD players in Curry's, that sense of judging quality by the smoothness of operation. You have to do it again and again, just admiring the workmanship.
Of course there is much more to enjoy in a Rockliffe Hall luxury hotel suite than simply the sanitary arrangements, there are of course the lights too. My suite boasted lighting control panels from USS Enterprise with buttons for Mood 1, Mood 2, Dress (!), Night and many others. After playing with them all, and almost inducing an epileptic fit in the process, I moved on to the three televisions, including one at the head of the bathtub. This was a bit disconcerting – watching the news I got the impression that Huw Edwards was looking straight at me and not at his autocue. I wasn't dressed for the occasion and neither was my rubber duck.
Far easier to handle were the two enormous TVs in my sitting room and bedroom, which had HD recorders so that guests can enjoy an evening meal and then still catch their favourite programme later in bed. They cater for your every need at Rockliffe Hall that's for sure but what about the catering?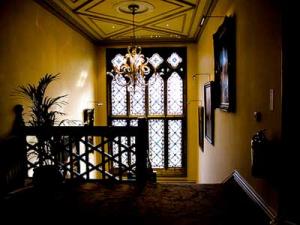 I went to try the food of course, the special Gourmet Dining Break, which at £160 per person weekdays includes one of these very sumptuous rooms, an 8 course tasting menu from Kenny Atkinson, Michelin starred chef last seen on Great British Menu, a lavish breakfast, the very lush spa experience plus champagne and chocolates in your room on arrival. All in all a very good deal indeed I thought, as I idly supped my champagne, popped chocolates and looked out the window over the hotel's 375 acres stretching away to eternity, or possibly Durham, whichever was nearest.
Rockliffe Hall has enjoyed this same view since 1774 but it wasn't called that then. It was only in 1851 that the buildings were unified under that name by Alfred Backhouse a wealthy local. Like so many grand old houses it later saw good and bad times, being used as a hospital and a care centre before being pretty much abandoned in the early 1960s.
You wouldn't know that now though. Millions of pounds have been spent on enlarging the building and creating one of the largest spas in the country, as well as laying out a championship golf course. In addition to the main rooms in the Old Hall there are now modern but contemporary rooms in the New Hall sympathetically added onto the main house. There are also mini lodges in the grounds designed to cater for families or senior executives on company away breaks who wish to make a power statement.
The Old Hall is the treat though with its public rooms very much as Backhouse would have seen them, giving a real sense of a country house retreat and not a hotel. This atmosphere is helped by staff who have a courteous and very friendly way about them, always saying hello when they pass in an unaffected manner and with a genuine smile. This is a luxury hotel with no compromise.
Dinner is served
Compromise is certainly not a word in Chef Kenny Atkinson's dictionary; you don't pick up the accolades and the Michelin star by settling for anything but the best from yourself and your team. His kitchen is state of the art, as I discovered on a pre-dinner nose around. Designed from scratch as part of last year's total renovation of Rockliffe Hall, it has space, light and air, all the ingredients chefs need to create excellence every day. There is a sign listing forbidden words never to be seen on the menus too, Kenny is keen to present fabulous food without flimflam
The kitchen may be modern and bright, but the dining room – The Orangery – is historic, being the original glasshouse built to satisfy the Victorian passion for exotic fruits and flowers. Today as the hotel's fine dining room it sparkles romantically with reflected lights and looking straight up you can see the stars. Looking down you get to see a parade of dishes from the tasting menu brought to table with well-spaced out timing and designed to have you leave the room whistling happily and not groaning with overeating.
Seasonal produce features strongly on a menu that changes regularly to reflect what's available and what's at its peak. A ballotine of Shetland salmon was as soft as foie gras and just as unctuous, its gentle poaching enhancing its natural flavours. A small jelly of Scarborough lobster, some spiced tomatoes and a snuffle of caviar all helped make a great starter. Northumberland Wood Pigeon with ham hock, duck liver, smoked bacon, celery and walnuts was a celebration of the areas traditional foods. It was followed by a brilliant herb roasted Cornish Turbot with a puddle of hollandaise and Jerusalem artichokes and after that came a nicely sized piece of Yorkshire venison partnered with my favourite vegetable, celeriac, plus caramelised apple and morels. This was all very good indeed, especially when paired with sommelier choice wines at a slight extra cost.
Cheese plus two desserts later and the sitting room seemed comfier than ever. Even though the meal had been perfectly judged I was still glad I wasn't going anywhere further than my bedroom. Coffees and little chocolate treats were just the thing and the sofas invited me to sprawl like an aristocrat on his home turf, a temptation resisted by clambering up the wooden hill to Bedfordshire instead. And what a very lovely bed it was in a room that which wasn't overheated and whose windows easily opened. So many hotels seal you in; country houses thrive on fresh air.
Can I have some more?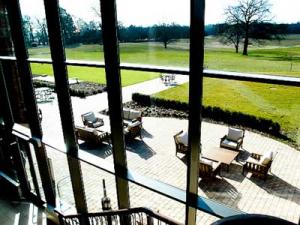 The next morning I was back in The Orangery, now bathed in sunlight, my cutlery poised for more food. A great big buffet was tempting, but what's the point in being in an hotel and not having a cooked breakfast? All the great cooked choices were on offer, but Full English is the true test. For god's sake hold the baked beans though. I don't know how people can eat baked beans for breakfast; it's a relatively new addition to the Full English and I don't like it at all, bin the beans and bring back kidneys I say.
Missing ugly baked beans the breakfast was elegantly plated and featured a jolly good sausage, a perfectly poached egg, some nice black pudding but rather indifferent bacon – overly salty and with no crispy bits. It seems hard to find decent bacon anywhere, the bacon I remember from my childhood.
Now would have been the time to go the spa and I did, but only for a peek around. A walking advert for what happens if you don't look after yourself I could be used for a 'before and after' promotion for the Rockliffe Spa with perhaps George Clooney playing 'after'.
I normally find spas cold and clinical, but this enormous complex is all about thick carpets that snatch seductively at your feet, muted colours and lots on offer. There's a state of the art Technogym and Kinesis studio and a sleep programme with individual treatments and they even send you home with calming aromatherapy oils and candles to induce a perfect night's sleep. There are skin treatments, massage and relaxation areas and aldarium steam room with heated ceramic seats plus butlers to keep you topped up with champagne or smoothies. And outside there are bike rides, Nordic walking and of course the golf course.
Vast sums have been spent on Rockliffe Hall and they are all evident in every fixture and fitting and in every part of the service. They even gave me a packed lunch to eat on the train home, which in true schoolboy fashion I was digging into even before the cab left the grounds.
For a break with brilliant food, pampering, exercise and great golf opportunities, this old house has it all.
Gourmet Dining Breaks
One night's accommodation in New Hall or Tiplady Lodge bedrooms, including:
* Bottle of House Champagne and Chocolates in your room on arrival
* 8 course tasting menu in The Orangery
* Use of the world-class spa facilities
* Full English Breakfast
Midweek (Tues – Thurs) £160 per person
Weekend (Fri – Sat) £190 per person
(based on 2 sharing a double or twin room)
Valid From 1 March – 31 May 2010, add sommelier selected wine pairing to your experience for £55 per person. Subject to availability.