Miss Q's, 180-184 Earl's Court Road, London, SW5 9QS Tel: 020 7370 2841 www.missqs.com
As a reviewer, there are some assignments which are more exciting than others. To be honest, a pool bar in Earls Court wasn't one of them: we're both rubbish at the game, and just the words conjure up an image that's more Lock Stock than Breakfast at Tiffany's. And a wet, chilly evening wasn't lightening our mood, but with open minds, off we went to Miss Q's.
The first thing that you notice is that aside from the entrance area, it's all below ground and as we descended, first impressions were very positive. By the reception position, a small room had pinball machine and a wealth of rock photos on the walls, which was very inviting and ahead, in the main area a small but attractive dance floor was lit up, although not in use.
It was as we walked through that we got a feel for the size of Miss Q's. It's big. Although positioned as a pool bar, there are only three tables, which seemed to be enough for those who wanted to play, but not so much that they dominated. Aside from the pool tables, there are bar areas, and plenty of seating. Classic 60s rock was playing, but at the right level to add to atmosphere, without making conversation difficult.
The decor is interesting, to say the least, with some very bold touches. The ceiling is crimson, with a light pattern, while some of the walls are black with similar highlights and yes, that sounds hideous, but it really works. There is framed rock photography on the walls, which enhances the overall feel and this is also available for purchase. There are a mix of other decorative flourishes and styles. We immediately felt comfortable and relaxed.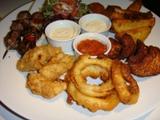 Food is diner style, with the usual suspects, including burgers and sandwiches, hot dogs and salads. There are also what the menu calls bites, plus sharing platters that combine a number of these, which is what we went for. Crispy squid was just as described, with the squid nicely cooked; onion rings and potato wedges were both good, and the sweetcorn fritters had a subtle taste and pleasing texture. Chicken strips were tender, with a tasty coating, but the highlight for us were the meatballs: two skewers, each with three perfectly cooked, juicy spheres, separated by red pepper and onion… delicious. The platter is a good choice for two, maybe three people to share, though for the ravenous, the burgers looked enormous, as did the portions of nachos.
We had held back, though, because we wanted to try two of the desserts. The banoffee split wasn't quite what we had imagined: the banana had indeed been split, but where we anticipated a splodge of soft toffee topping, each portion had a crisp caramel coating. Our initial reaction was disappointment, but the coating had a lovely sweetness and the texture was an interesting contrast to the softer banana. The chocolate brownie was also good; and although more fudgy than gooey, it was moist and had a lovely rich chocolate taste. The vanilla ice cream that came with both desserts was excellent and stood up to the warmth of the brownie without collapsing into liquid, which a lower quality product might have done.
Later in the evening, there was live music, which is a regular feature, and there is a resident DJ, so the dance floor gets a work-out as the evening progresses.
Service throughout the evening was friendly and efficient, with staff very visible and helpful. Although the most immediately obvious aspect here is perhaps the pool bar, there's much more to Miss Q's than that, making it a great place to meet, drink, eat or dance and what the heck, maybe even have a game of pool.