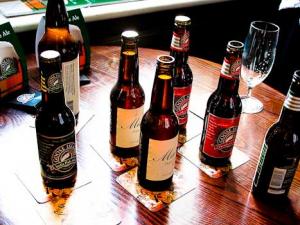 James Clay, the specialist beer people, presented a collection of 'attitudinal' beers from four of America's most highly regarded breweries: Brooklyn of New York; Anchor of San Francisco; Goose Island of Chicago and Flying Dog of Maryland.
The 17 beers were swirled, sniffed and sipped at the White Horse on Parson's Green alongside an offering of their delicious mini burgers, marinated salmon morsels and barbecued spare ribs. The beers are all available seasonally or by special order (James Clay & Sons 01422377560 / www.beersolutions.co.uk).
Leading wine expert and noted beer lover, Oz Clarke, commented:
'America is famous for bold, big flavours in their beers and they are popular for that. The Belgian beer styles at this tasting were FANTASTIC. The Brooklyn Local 1 is EXCELLENT and their Black Chocolate Stout is remarkable. The Anchor Bock and Porter are really good. Flying Dog's beers are all brilliantly bonkers – fabulous, unusual flavours that make your brain fizz – if you can remember where your brain is after a couple of these beers!
'America wants to be different and those are brave, bold beers. But don't dampen down on flavour. A couple of the well-known ale styles seem to have lost their bite in recent releases. America must keep confidence in itself. The reason we love them is because they are different, memorable and strong. Show us your magnificence and we'll pay if you deliver!"
Melissa Cole, beer writer and blogger said:
'American beer is unbelievably under-rated. Anyone who drinks beer will find something to be very excited about in this range. These are beers that are reminiscent of Christmas morning – Clementine oranges and chocolate abound in the Flying Dog's Raging Bitch and Goose Island's Sofie."
ï'· BROOKLYN LAGER, 5.1%abv, 35.5cl – Oddbins, £1.49 – New York's "hometown" beer
ï'· BROOKLYN BROWN ALE, 5.5% abv, 35.5cl
ï'· BROOKLYN BLACK CHOCOLATE STOUT, 10.1%abv, 35.5cl – Oddbins (seasonally) £1.99 – winter ale
ï'· BROOKLYN LOCAL 1, 9.0%abv, 75cl – Belgian-style Tripel
ï'· ANCHOR STEAM BEER, 4.8%abv, 35.5cl – San Francisco legend
ï'· ANCHOR LIBERTY ALE, 5.9%abv, 35.5cl – pale ale derived from the English Style
ï'· ANCHOR PORTER, 5.6%abv,35.5cl – soft, sensuous dark Porter
ï'· ANCHOR BOCK BEER, 5.5%abv,35.5cl – released in celebration of the arrival of spring
ï'· GOOSE ISLAND IPA, 5.9%abv, 35.5cl – English Style India Pale Ale
ï'· GOOSE ISLAND MATILDA, 7%abv, 35.5cl – Belgian Style Pale Ale
ï'· GOOSE ISLAND JULIET, 6.7% abv, 65cl – for those fond of Belgian sour ales
ï'· GOOSE ISLAND SOFIE, 6.5%, 65cl – for fans of Belgian Saisons
ï'· GOOSE ISLAND HONKER'S ALE, 4.2%, 35.5cl – English Style Bitter
ï'· FLYING DOG RAGING BITCH, 8.3%abv, 35.5cl – American IPA augmented with Belgian yeast
ï'· FLYING DOG SNAKE DOG INDIA PALE ALE, 7.1%abv, 35.5cl – Colorado-style IPA
ï'· FLYING DOG SCHWARZ BEER, 7.8%abv, 75cl – Smoked Double Lager
ï'· FLYING DOG GONZO IMPERIAL PORTER, 7.8%abv (produced in small batches) – Tesco £1.99
ends