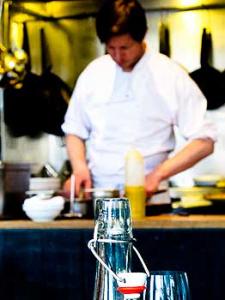 I'm not all sure about the decor in Konstam; all those hanging chains are bound to be dust traps, as my mother would be the first to point out. They look a bit grubby and grotty even to my unhouse-trained eyes. In fact the decor in general reminds me of girlfriends' rooms at Uni in the early 80s, the sort of girls that went in for black nail polish and who were pretty certain they might be witches and has anyone seen the Rizlas?
Why is it that eco conscious people always have such rotten taste? Why does saving the planet involve not putting a duster round occasionally? Who knows, it's like underarm hair and socialism, inseparable. Fetzer have certainly picked the right place to tell us all about their 'earth friendly' wines.
We've had a few drinks, we've had some starters, after Chef/Patron Oliver Rowe finally got his knife out in the kitchen where the bar used to be in this converted pub, and just as the noise level is getting painful a nice lady from Fetzer calls for silence and proceeds to induce death by PowerPoint using a laptop and a projector. She's doing it to the backs of half the audience and I have to screw myself right around in my seat to see anything. I'm not seeing much as the lady is blithely standing in front of her own projector, thus cutting off half her own screen. I untwist back to my glass of wine to say 'there really is no such thing as a free lunch' to my neighbour, but it comes out a bit louder than intended and a few glances are thrown my way by the PR teams.
Which is all jolly cruel and really Fetzer don't deserve it, but whoever thought it would be a good idea to stop lunch dead and subject a bunch of semi-pissed journos to a presentation clearly needs to rethink their strategy.
However the Fetzer story, as I learnt the sensible way, from reading the press pack after, is a good one. From small beginnings when no one took Californian wine seriously to now big business, they have impeccable Green credentials.
Fetzer is not only committed to making outstanding wines but to doing so in a sustainable, responsible way. Through a company-wide waste reduction effort and the recycling of all materials, Fetzer has reduced waste to landfill by 96.5 percent since 1990.
Even the offices in which Fetzer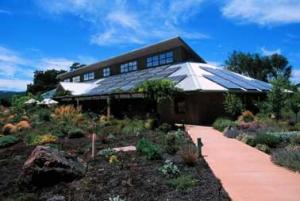 employees work are housed in a green building made of recycled and natural materials. Dirt was used for the walls and recycled wood was used for both exterior and interior structures. They have one of the wine industry's largest solar arrays and use recycled glass in the bottles, even managing to make the bottles thinner and so less heavy and so easier and cheaper to transport.
Of course this means nothing really if the wine's no good but I'm no expert. Indeed not everyone there was, including a nice lady who said she was a personal stylist, so I'm not sure quite what her presence entailed although she did offer unsolicited style advice to one female writer who received it with an increasingly strained smile.
So the wines, screw capped of course, as I suppose every wine will be before long. I don't go much for white but I accepted a glass of their Chardonnay. Everyone is so down on Chardonnay in general that I felt it only fair to give it a go. This had some nice tropical fruits going on, like sticking your nose in the tinned pineapple, and was zesty and refreshing. As its chill wore off it became a bit more cloying but one to keep in the fridge for summer definitely.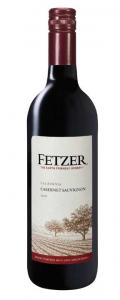 The Cabernet Sauvignon red I was unsure about at first, but it opened up to be an adult red with quite a bit of puckering tannins which should start to soften after a few years in the bottle. It needs a strong food to accompany it and Oliver's lamb dish was just the job with the meat fork-tumblyingly tender. The 'warm' potatoes were stone cold though and the amount of raw garlic on the plate was excessive. I can still taste it now.
I liked the Shiraz – juicy, big and bouncy ideal for drinking without food, as indeed so many New World wines are, but it was the Cab Sauv I stuck with throughout.
As we decanted out into Kings Cross reeking of garlic, the general feeling was that, PowerPoint aside, Fetzer are good people making pretty good wines and should be encouraged. Eco credentials do not necessarily a great wine make but it's certainly a route winemakers should consider going down, even if that route occasionally leads to a funny old converted pub in North London.