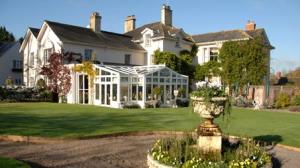 If you've always loved the idea of foraging for your own food but don't know where to start then why not head to the Summer Lodge Country House Hotel, Restaurant and Spa in Dorset on Saturday 30th October where John Wright will be leading a fungi forage?
John Wright, celebrated wild mushroom hunter and author of the River Cottage Mushroom Handbook, has led over 300 fungi forays over the years and on the 30th October he will be leading a group of guests around the chalk downlands and leafy woods srurrounding the gorgeous village of Evershot in a hunt for both edible and not so edible mushrooms.
You don't need any previous experience of foraging or any knowledge of fungi to take part because John will be there guiding you through at every stage. There will be two sessions of this Adventures in Food package; the morning session will begin at 10am with an introduction by John followed by a few hours exploring and foraging in the local countryside. At 12.30, once everyone has worked up a healthy appetite, it's time to head to the traditional Acorn Inn for a well earned Pub Lunch.
Things kick off again at 2.30pm with a short introduction from John before he takes the group to forage on very different terrain to see where a range of varieties of fungi thrive. At 6.30pm the group gathers at the hotel to go through the different mushrooms they've found throughout the day and John will identify them, finishing up with an engaging question and answer session.
The chef at Summer Lodge will be preparing a special mushroom themed menu which will use some of the guests foraged finds. The meal will be accompanied by wines carefully selected by the hotels Sommelier, Eric Zwiebel, runner-up in the Best Sommelier of The World Competition 2008.
The price for the entire Adventures in Food package are £385 per room per night based on two people sharing. The package includes two nights accommodation, full daily English breakfast, the guided forgaing tour and a three-course dinner.
To book call Summer Lodge on 01935 482 000