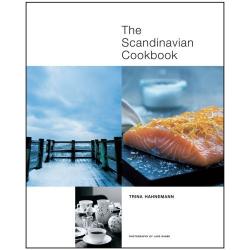 My grandmother would disapprove of this cookbook in much the same way that she would disapprove of my flat. For her, home meant the place where she'd spent 60 years building a heavily embroidered nest, surrounding herself with trinkets which reminded her of friends she'd known and places she'd been. For her, affection should be demonstrated by the presentation of complex pastry goods and jumpers knitted slightly askew.
The clutter, historicism and general stuffiness of this environment were aspects my mother fought long and hard to escape from. At the advent of her marriage, Scandinavian design was her weapon of choice. The simplicity, functionality, and timelessness of the pieces she chose met with disapproval from a matriarchal angle though. Dear mamgu equated the clean lines of an Alvar Aalto chair with austerity, the block print colours of Egersund and Marimekko with naivety. It was a diametric opposition which neither would compromise, and whilst I may have inherited my mother's sense of interior design, each generation must fight its own battles; mine sets my mother's Complete Cookery Course by the doyenne Delia against books such as Trina Hanhemann's Scandinavian Cookbook, which is republished this month (October).
Ironically, the premise of our culinary set-to is much the same; she believes that the more effort, stages and flavours you can pack into a dish, the more appreciation you show for your guests. To her, fuss = love. I keep trying to explain that – just as for the furniture – simplicity does not mean plain. Many of the recipes in this book have a mere five or six ingredients, and their presentation is almost brutally straightforward, but this works to enhance the individual flavours of a dish – salmon marinated in citrus zest beings out the tautness of the flesh (in a way hollandaise sauce for me never has), whilst Trina's aromatic stuffed pork loin brings elegance of presentation and subtlety of complementary flavours where previously there was dread and gravy.
For many, the clichéd aspects of Scandinavian cooking (dumplings, lingonberry jam, pickled everything and the ubiquitous meatball) can be as cloying as my grandmother's chintzy tapestry cushions and scatterings of nick-nacks, but here Hahnemann uses a much lighter touch. Arranged seasonally, this book takes a temporally sensitive approach to both produce and preparation. Summer calls for quick, light breakfasts of spiced berries and yoghurts, whilst preserved walnuts in wine paired with cheeses and a simple, fresh flatbread would surely be welcome for an evening at any winter hearthside.
The mixture of textures which characterises Scandinavian design – polished timber surfaces with knotted felt rugs, smooth glass and rough ceramics – also filters through to dishes such as cauliflower with coarse almonds, or peppered veal baked with rhubarb and paired with coolly crisp sweet and sour cucumber salad. The recipe for Medaljer alone contrasts the tartness and crisp texture of lemon biscuits against a soft, sweet cream filling and smooth chocolate crust.
Even the previously released hardback version has been Ikea-ised, stripped down to be lighter, cheaper and more accommodating to a nomadic lifestyle (there's no kittens though, but as a nod to cliché a photo of a naked man does make it to the cover). Whilst it reiterates the key aspects of simplicity, functionality and timelessness, this book is devoted to providing delicious food for friends and family; something which all three generations of our family would approve of.
{ISBN:1844008355}