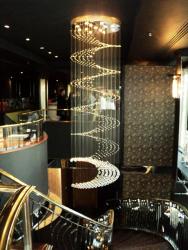 Sitting on the top floor of the Hilton Metropole in Edgware Road, Minako occupies a space that many restaurateurs would kill for. Facing south you have views across Hyde Park and for many miles beyond, it's like a huge chunk of the London A to Z is set out before you. And whilst the views are stunning in the daylight, as dusk and then darkness draws in, you get the beauty of the twinkling lights from the buildings that sprawl before you from this great uninterrupted view.
As you step out of the lift on the 24th floor, you walk into a lobby area. There is a sweeping staircase which has a marvellous gigantic chandelier dripping down its centre – I'd hate to be the person who has to clean it! As you reach the restaurant and bar areas, you are immediately drawn to the wall of windows and the views. The decor is largely dark colours, but there are lighter accents with an orchid theme. The name Minako, meaning beauty in English, led to their choice of orchids as their accent in the design, which has been kept simple and elegant. The bar area has a slightly clubby feel about it; deep soft leather chairs draw you in and welcome you as you sit. There is extensive use of mirrors to bring in light during the daytime and the Christmassy like twinkling lights of London during the dark hours. It's a warm and welcoming space that has been well thought out, I can well imagine arriving there, taking an aperitif in the bar area before drifting seamlessly to my table.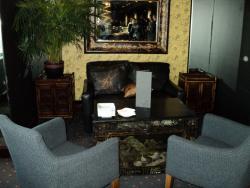 At the launch, Champagne was very much in evidence, but I chose to drink a nicely crisp Pinot Grigio during the evening. I know I might be thought a bit of a heathen, but have come to the conclusion that you can have too much Champagne. Those who know me well will be staggering back in shock right now. Anyway, as we sat and sipped (well mostly) and chatted, waiting staff brought around bite sized canapés and small tasting plates from the Minako menu. First came a wave of Maki Rolls, some with salmon and avocado, others with spicy tuna, and some vegetarian ones, all encased in their sticky rice wrap. Then prawn kataife, the prawn in its squiggly crisp cage. Dishes of lovely deep tasting salmon miso followed, then little bowls of chicken curry. These lovely tasters seemed to keep coming, I finally finished with an almond yoghurt pannacotta. Each of these flavoursome little tasting dishes feature in the different parts of Minako's menu.
While there I was able to take a look at the menu. It's very reasonably priced, particularly given Minako's location. Starter dishes averaged at the £6 mark and all the mains were under £20 which I thought was very good indeed. Minako is certainly well appointed, it's stylish and has a great relaxing atmosphere, I can imagine it becoming popular both with visitors and with the Hilton's guests.
Minako, Hilton London Metropole Hotel, 225 Edgware Road www.hilton.co.uk