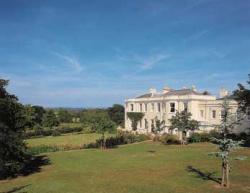 Recently given a bit of a facelift (by way of a new spa) The Mount Somerset is one of those places that quite possibly actually deserves the title 'hidden gem'. A stone's throw from the M5 (make a note next time you're en route to Cornwall) it still manages to feel tucked away, enjoying a quiet sense of calm. It's a country house in the truest sense (rendering its proximity to the M5 more an advantage than a stumbling block I'd say): Tree lined drive? Check. Less than fifty guest rooms? Check. Hillside views? In abundance….
On the day of my visit I spotted an eclectic bunch of guests – from eight ladies lunching to three French tourists. Had I found a turtle dove on the menu I guess I would have had the full set… I subsequently returned for a quick drink the following week and stumbled upon a huge (extended) family, ages ranging from around 8 to 80. One of the party told me "it's an ideal meeting point if half of you are deeper in the south west and the other is nearer the midlands." Noticably the collective vibe was more home-from-home than 'don't touch the family china'… I imagine this place does a good trade in corporate / business lunches too.
Rooms successfully nail that lynchpin of modern hotel design – cool, slightly quirky, but comfy (surprising how many get it wrong) and my bathroom was vast. I managed to sneek a peek at others along the corridor and found each to be individually designed and decorated (which always makes me feel better about a hotel – particularly givern that yes, the Mount Somerset is actually part of a 'chain' – albeit that of the slightly posh Von Essen Group).
Onto the food and I was impressed. Head Chef Stephen Walker is serious enough to smoke his own salmon (simply gorgeous) but is not so dogmatically aligned to the local-local-local rhertoric that he won't accept (stunning) cheeses from the continent.
The seasonally changing menues tend to celebrate classic favourites along with enabling Stephen to flex his imaginatiuon here and there. Despite the access-all-areas ode to cheese, main course ingredients do fly the local flag where it counts (chicken from the Quantocks, lamb and game from Exmoor, Brixham Lobster etc). Home-baked bread is a bit of a calling card.
Prices are most reasonable with the all day dining (£15.95 for two courses, Monday-Saturday). Sunday lunch is infinitely popular with locals – especially with its regular jazz sessions every other Sunday (three courses at £22.50 – not bad eh…) As always, the wine does prop up the price – though the list is impressive – especially if you head off-piste and sample a few of the lesser known grapes. Having said that, my old favourite Sauvignon Blanc, enjoyed as an aperitif prior to supper, was one of the best I've tried in a while.
Admittedly the place could do with a few more faces, especially at night (apart from a couple of loved-up 30-smthgs, I was flying solo at supper). I suspect this is down, in part, to the age-old problem of locals not realising that they'd be as welcome to come for the food as they would be to stay the night. Hopefully in time this will change as I really do think the place deserves to be as packed with discerning young locals as I suspect it currently is with suits and ladies who lunch.
Current menu highlights include ravioli of Cornish Lemon Sole, White Crab and Ginger with (sustainably sourced) Oscetra Caviar, Lemongrass Sauce and Aubergine Relish (and that's just to start). Further down is English Quail with Chicken & Garden Herb Mousse, Risotto of Crème Fraiche, and Broad Beans and Peas and a Light Chicken Jus. Sour Cherry Bavarois with Griottine Cherry Compote, Ginger Bread Ice Cream & Sherbet is an eye-catching dessert.
Go visit – before the secret's out. Overnight packages start at £120. Special offer throughout February and March: two courses for £12.50 www.mountsomersethotel.co.uk