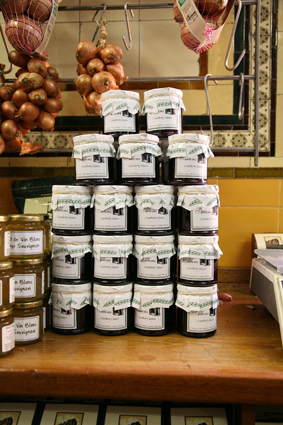 This summer, Mayfair's oldest and best-loved butchers, Allens, launches a brand new own range of traditional sauces and condiments to accompany their superior quality meat, poultry and game. Furthermore, from mid July, all of Allens produce will, for the first time, be available to order online for nationwide delivery.
Launching at Taste of London on 18th June, Allens luxurious range of condiments features everything you need to accompany a traditional joint of roasted meat, poultry or game: from a selection of mustards (English smooth, French, wholegrain and Dijon), horseradish (creamed, hot and seriously hot), pickles (sweet baby beetroot, red cabbage), sauces (mint, cranberry and luxury Bramley apple), chutneys, jelly and honey. Visitors to Allens stand at Taste will be able to buy the sauces as well as see demonstrations of butchery.
The Allens new website:www.allensofmayfair.co.uk will follow, ready to take online orders from mid July. Most of Allens traditional cuts of meat, poultry and game will be available to order online – from roasting joints to cheaper cuts such as oxtail and skirt. A seasonal food section will contain special meat boxes, from barbecue boxes in summer to bronze turkeys and geese for Christmas and, of course, the fine game selection, which is Allens speciality. The website will also have an interactive part where customers can learn about different cuts of meat and their uses.
Established in 1830, Allens of Mayfair is the oldest butcher in Britain still operating on its original site. Once a family business, Allens is now owned by Justin Preston and David House, owners of Rare Butchers, who saved ailing Allens from imminent closure when they bought it back in spring 2006. Since then, Justin and David have turned the fortunes of Allens around, supplying some of London's finest hotels and restaurants including Claridges, The Dorchester, The Connaught, The River Café and Zuma.
The Mayfair shop with its huge sides of perfectly marbled beef adorning the Victorian tiled walls, octagonal butchers block and impressive glass windows is a true find and a delight for meat lovers. The friendly and knowledgeable staff holds regular, hugely popular Butchery Classes for Beginners, where customers learn how to prepare seasonal cuts.
Allens of Mayfair, 117 Mount Street, W1K 3LA