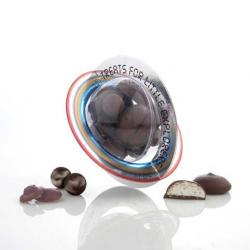 Like chocolate? Then you'll love this, the Artisan du Chocolat have a feast of events during Chocolate week so why not dive in and float away on a sea of cocoa love?
Chocolate unwrapped
Where: Mayfair Hotel London
When: Sat 10th, Sunday 11th
Come try new products at Chocolate Unwrapped from exotic Bali bars to s'mores or coated wasabi peas.
Sophisiticated pairings with Clay Gordon and Gerard Coleman
Where: 81 Westboure Grove W2
When: Monday 12th from 7pm-8.30pm
Come to this unique tasting with Clay Gordon, founder of Chocolate life – the largest site for chocolate lovers, and Gerard Coleman, founder of Artisan du chocolat. Try some of the most unusual pairings with chocolate and… cheese, beer, wine, vinegar and even cold meats. £40 per person. Booking by email elise@artisanduchocolat.com
Meet the chocolatier
Where: Fortnum and Mason
When: Monday 12th from 12-4pm
Come and meet Gerard Coleman who will be sampling some of the 28 bars made for Fortnum and Mason from ground beans.
Test your buds competition
Where: 89 Lower Sloane street, 81 Westbourne Grove, Artisan at Selfridges oxford street
When: all day Monday 12th- Sunday 18th
Do you know your Bali from your Congo or Jamaica chocolate? Can you taste the difference? Take the quiz. Free bar to each customer who matches the bar samples to their tasting notes (limited to 1 per customer per day)
Speed Tastings
89 Lower Sloane street: 3-3.30pm on Tues 13th, Wed 14th, Thurs 15th, Fri 16th, Sat 17th
81 Westbourne Grove: 12-12.30pm on Tues 13th, wed 14th, Thurs 15th, Fri 16th, sat 17th
Artisan at Selfridges:1.30-2pm on Mon 12th, Wed 14th, Thurs 15th, Sat 17th
30 min free tutored tasting of the range of bars produced from ground beans in the atelier in Kent and introducing new origins such as Bali, Costa Rica or Jamaica and sampling of some of the signature chocolates. Max 10 people. Booking by email elise@artisanduchocolat.com
Personal shopper
Where: Artisan du chocolat at Selfridges, Oxford street
When: Tues 13th and Frid 16th 11-12 and 1-2pm
Book at 20 minutes session with the chocolate personal shopper, Elise Thomassin. She will help you understand and identify what chocolate you like best. £15 per person redeemable against any of Artisan chocolates. This event is exclusive to Selfridges and only includes products from the shop at Selfridges. Booking by email elise@artisanduchocolat.com
Happy Hour!
Where: 81 Westbourne Grove
When: Mond 12th, Tues 13th, Wed 14th from 5.30-6.30pm
Friday 16th, Sat 17th: from 6.30-7.30pm
Sun 18th: from 3.30-4.30pm
Happy hour, all the chocolate cocktails created with Nick Strangeway at the reduced price of £4.50. Try the cocoa pulp bellini, cupuacu margarita, chocolate martini or favourite the matcha and white chocolate New Orleans gin fizz.
Chocolate tasting
Where: 81 Westbourne Grove
When: Thursday 15th th from 7-9pm
A 2 hours tutored tasting of chocolate bars, chocolates as well as chocolate drinks and nibbles from the chocolateria menu. Sit under the plantation light and delight your taste buds with all things chocolate from cocoa pulp juice to origin bars, couture chocolates, truffles, salted caramels, brownie, ice cream or cocktails
£35 per person. Limited spaces. Book online.
Factory tour and chocolate discovery
Where: Artisan factory, the Long Barrow, Orbital Park, Ashford Kent TN240GP
When: Sat 17th th from 3-6.30pm
Discover the working factory and see the chocolates being made from ground beans to bars and to chocolate. Journey with Gerard through a tasting of the chocolates.
Please note that you will need to fill a hygiene form before entering the production area.
£35 per person, limited spaces. Booking online.
Open factory tour
Where: Artisan factory, the Long Barrow, Orbital Park, Ashford Kent TN240GP
When: Wed 14th th from 3-4.30pm
Tour of the working factory including tasting and goodie bag. £5 per person. Spaces limited. Book by emailing anne@artisanduchocolat.com