Let's face it, not all of us cook everything at Christmas. Some short cuts are essential, even if it's only when you suddenly discover more visitors are on their way and a quick dash to the shops is the only way to show your hospitality. If you live near an Asda, their delicious and well thought-out Extra Special range, selected by Leiths School of Food and Wine, could save your reputation as a generous host.
Savoury tasters
Sundried tomato and cheese crumbles: My downfall, these were. Rich, full-flavoured, cheesy, crunchy, deeply satisfying except that they are also dangerously moreish. You'll want – no, need – several boxes. Or even more than that. Especially if you want some left over for your drinks party. £1 and an absolute bargain.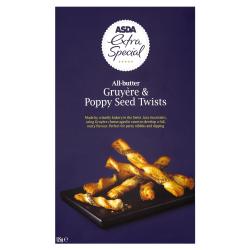 All-butter Gruyère and poppy seed twists: I'm always amazed at how such tiny poppy seeds can have such an impact; their flavour never dominates but it certainly has presence. These are sophisticated cheese straws, very buttery, crunchily crisp, with a good hint of gruyere. An elegant snack, perfect with a classic dry Martini or an icily-chilled pale Fino sherry. £1.30 for a well-filled 130g box.
Italian black olive breadsticks: The only point of breadsticks is for dipping. Yes, it means surreptitiously breaking them into one or two-bite lengths (turning the two-bite pieces round after biting half off so you can dip the undipped end – to avoid being socially ostracised for double-dipping). I'd have liked these to be more olivey and sprinkled with salt but, as it's the dip that counts, I dipped and found they worked well with my garlicky home-made houmous. £1.30 for 130g.
Canapés: Leiths, the world-famous cookery school founded by Prue Leith and Caroline Waldegrave, has teamed up with Asda to create a range of easy-to-make canapés. And very easy to eat, too. We've included three in our recipes section: peppered hot-smoked salmon pâté; goats cheese, walnut and honey crostini, and sausages four ways. A few minutes of mixing is all it takes …
Sweet treats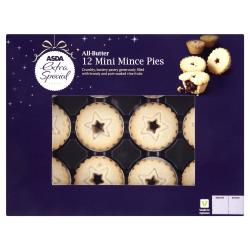 Twelve all-butter mini mince pies: These are the prettiest mince pies I've ever seen, with a star etched around the small star-shaped hole in the centre of the pastry lid, a gentle sprinkle of sugar catching your attention. Crisp, light shortcrust pastry, a decent quantity of dark, not-too-sweet fruity filling, and you can definitely taste the booze (brandy and port). Two bites: just the right size when there is so much else to eat on our national day of over-indulgence. £2 a dozen: extraordinarily good value for these wow factor crowd pleasers.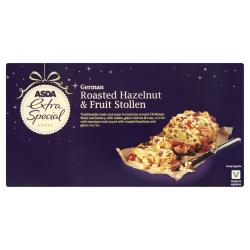 German roasted hazelnut and fruit stollen: Christmas cake defeats me; it's far too fruity and sweet. Although I adore marzipan, I find most stollens too sickly and moist. Not this one; it's the perfect balance between the two. Under the very generous topping of roasted almonds, hazelnuts and glistening glacé cherries, more cherries plus raisins lurk in a semi-dense cakey mixture through which the marzipan swirls. I suspect the rum had been drizzled over the cake as it was most obvious in the nuts and fruit that fell off when I was slicing the cake (scraping them up is definitely the slicer's perk). £5.50 and I think I got about 10 slices out of it.
Check the Asda website for the whole of the Extra Special range.