A Limited-Edition Caerphilly Ducketts and a Guest Cheese – St James. There are also two cheese selections, the New August Cheese Treats and the Weekend Cheese Box. 
All the items are available online at paxtonandwhitfield.co.uk.
LIMITED-EDITION Caerphilly Ducketts (£28.00/kg) (Pasteurised, traditional rennet) 
This batch of artisan Duckett's Caerphilly was made on 16th June  2021,  when quality manager Jazz Reeves joined the Somerset-based Westcombe Dairy cheesemaking team for the day. It has been maturing in the dairy's specially designed Caerphilly caves for the past six weeks and is now ready to eat.
Paxtons purchased the whole batch of handmade cheese from that day. Jazz's tasting notes for the finished cheese are: "The cheese is light and delicate – the texture is crumbly in the centre, and more squidgy towards the rind (this dual texture is to be expected in a piece of Caerphilly).
The flavour overall is bright and juicy. The centre of the paste is milky – it's really fresh, acidic and yoghurty, with notes of fresh grass and lemon. The squidgy outer paste is earthier, with more mineral flavours." The cheese is handmade in a skilled, labour-intensive process.
Westcombe Dairy has three herds of Friesian-Holstein cows, grazing on lush Somerset pastures, producing the finest quality milk. The quality of the milk depends on the continuous cycle of the farming process which includes the careful planning of the cows' diets to include as much homegrown food as possible.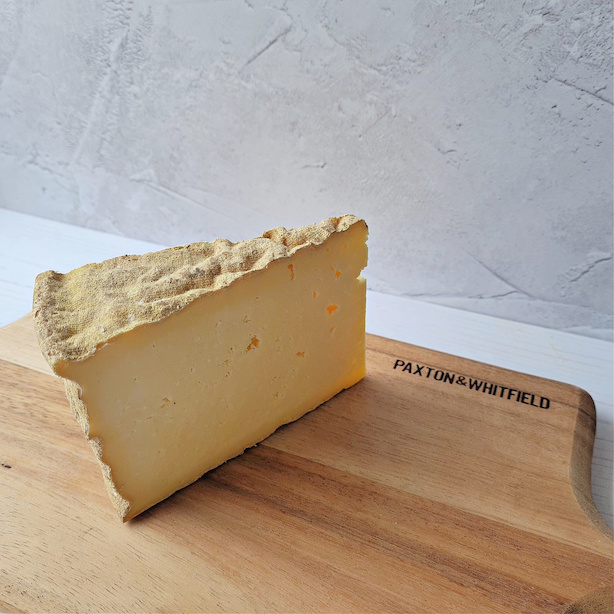 GUEST CHEESE St James (£13.50/250g) (Unpasteurised, traditional rennet)
St James is a raw milk, semi-soft, washed-rind ewe's milk cheese, made with Holker Farm indigenous starter culture. This batch was handmade at the beginning of July 2021 with summer milk. The flavour is savoury, with a creamy, yoghurt-like acidity and a smooth and unctuous texture.
The cheese has deep malty notes from the rind and a really pleasant milky freshness from the paste. This delicious, soft cheese is made by Martin at Holker Farm in the Lake District. Martin began by working with acclaimed cheesemakers such as Mary Holbrook and Graham Kirkham of Mrs Kirkham's Lancashire.
Confident that he had the tools to succeed, along with partner Nicola, he set up at Holker Farm in the Lake District and began to produce something unique to the UK: a washed-rind ewe's milk cheese. This cheese is seasonal, with milking from early spring to late autumn.
It's made daily from the warm, unpasteurised milk of  pasture that surrounds the far­m in Cumbria. For a period of three to four weeks the cheeses are individually washed and turned in a brine three times a week. This allows them to form the striking orange-yellow rind that contributes so much to the taste.
NEW & LIMITED-EDITION August Cheese Treats  (£60.00/price includes UK delivery) 
The perfect selection for a summertime treat including a seasonal assortment of British artisan cheese, craft beer, crackers and handmade Sea Salt Fudge. Ideal for a 'get together' or as a thoughtful gift. There are just 65 of these boxes available. 
The box includes: Caerphilly Gorwydd (250g), St James (250g), Driftwood (215g), Paxton & Whitfield Poppy & Linseed Crackers (150g), Paxton & Whitfield Quince Cheese (140g), Paxton & Whitfield West Country Farmhouse Cheddar & Mustard Squares (85g), Empress Ale (330ml x2) and Cotswold Sea Salt Fudge (150g). https://www.paxtonandwhitfield.co.uk/shop/cheese-hampers/august-cheese-treats
LIMITED-EDITION Weekend Cheese Box (£25.00) 
Available to order up to Thursday 26th August, this box offers customers a 'surprise selection', of 800g of the finest artisan cheese to enjoy over the Bank Holiday weekend. The cheeses are in perfectly mature condition and ready-to-eat over the next few days. Only cheeses that Paxton's cheesemongers have selected as perfect to eat will be included.
Both of these cheese collections feature re-usable ice packs and 100% sheep's wool insulation for a chilled delivery and a free Paxton & Whitfield gift card; printed with a personal message, if the collection is being bought as a gift.