Jones and Sons may sound like an old cobbler but there's nothing resembling shoe leather served at this quality modern British restaurant and artisan cocktail purveyor.
A foodie oasis tucked away just off Gillett Square in London's vibrant, diverse and even hip, Dalston, it is well worth seeking out. Just a short walk from the overground station, it's entirely hidden from view until we locate wrought iron gates to a charming courtyard, manned by a sharp suited guy who checks our reservation before we're admitted.
The mini gated community beyond also houses an artsy café/bakehouse and entrances to converted warehouse offices where cool people probably do very cool work.
The tranquil courtyard transports you into a 4000 sq ft interior which gives off an industrial feel with its concrete floor, dark metal, ductwork and marine salvage sourced light fittings, but it is also somehow a cosy space with some lovely original 1950s rose wood shelving behind the 11-metre white marble bar top and oil candles flickering seductively at each table. There's also a function room tucked away somewhere.
Once seated, the cocktail menu makes for good reading from Hi-Balls to a Mandarin and Ginger Sour, but for us it's a difficult toss up between the Sherry Manhattan (Bourbon, Olorosso, Antica Formula, Bitters) and the White Negroni (Tanqueray 10, Suze, Lillet Blanc). 
So, we decide to get both and share. The merest glance brings discreet, efficient service and, after ordering the drinks, we embark on our starter choices.
Jones & Sons was founded by Andy Jones, alongside Richard Priestley & Milika Muritu of Cell Studios, in 2013. They set out to create a great place to meet, eat, and drink, with an emphasis on well prepared high quality honest British food. They must be getting it right as the place is now filling up fast with those in the know.
Andy's other aim was to serve excellent artisan cocktails from around the world and he's nailed it. My Sherry Manhattan is a truly wonderful concoction and at the bottom I find a delicious boozy maraschino cherry to finish. The White Negroni is an eye opener too, I might attempt both of these at home, although almost certainly with far less finesse.
To start, a very fresh Trombetta Courgette & Broad Bean Salad (Butter Bean Labneh, Radish, and Pine Nuts) is thoroughly enjoyed by my other half who remarks on the wonderfully creamy and surprisingly vegan labneh thickened with chick pea water. 
Meanwhile, I try to consume my dainty, shell served Scallops (Smoked Pancetta, Garden Peas, Seaweed Butter and Apple) with some degree of mindfulness so that these delicious morsels don't vanish too quickly.
There's plenty to make choosing your main course hard too. We contemplate Braised Pork Belly, Octopus, Fermented Hispi, Dashi and also the White Crab Pappardelle (Cod Roe Butter Sauce, Bottarga, Urfa Chilli, Finger Lime), but in the end, grilled Butterflied Mackerel (Pistou Sauce, Green Beans, Almonds) and Pan Roasted Turbot (Oyster Velouté, Girolles, Sea Herbs) win out.
Time to order wine too which brings more choices but we're easily swayed by the Organic Syrah Comte de Grignan (Rhone, France) and its ripe black fruits are smooth and spicy.
Perhaps not the accepted colour to accompany fish but it's never worried me and I think the mains with stand up for themselves.
Both dishes are wonderfully tasty and well presented with all the individual flavours coming through – it's a win win. However, we may have over ordered with a side of Pink Fir New Potatoes each. 
They come in bigger bowls then we expected, but as they are crisped in duck fat with lovely creamy Rosemary Aioli, we do our level best to get through them.
Although quite full, the desserts here are too tempting. My luscious Strawberry Bakewell Tart has lots of fresh fruit and great short pastry with a firm, crumbly texture. It comes with Pistachio, Almond & Lemon Gelato which is studded with delicious crunchy hazelnuts too.
My date is delightfully surprised by the Vegan Eton Mess with juicy cherries and creamy Dark Chocolate Sorbet, it is so dairy-like it's amazing that no cows were involved.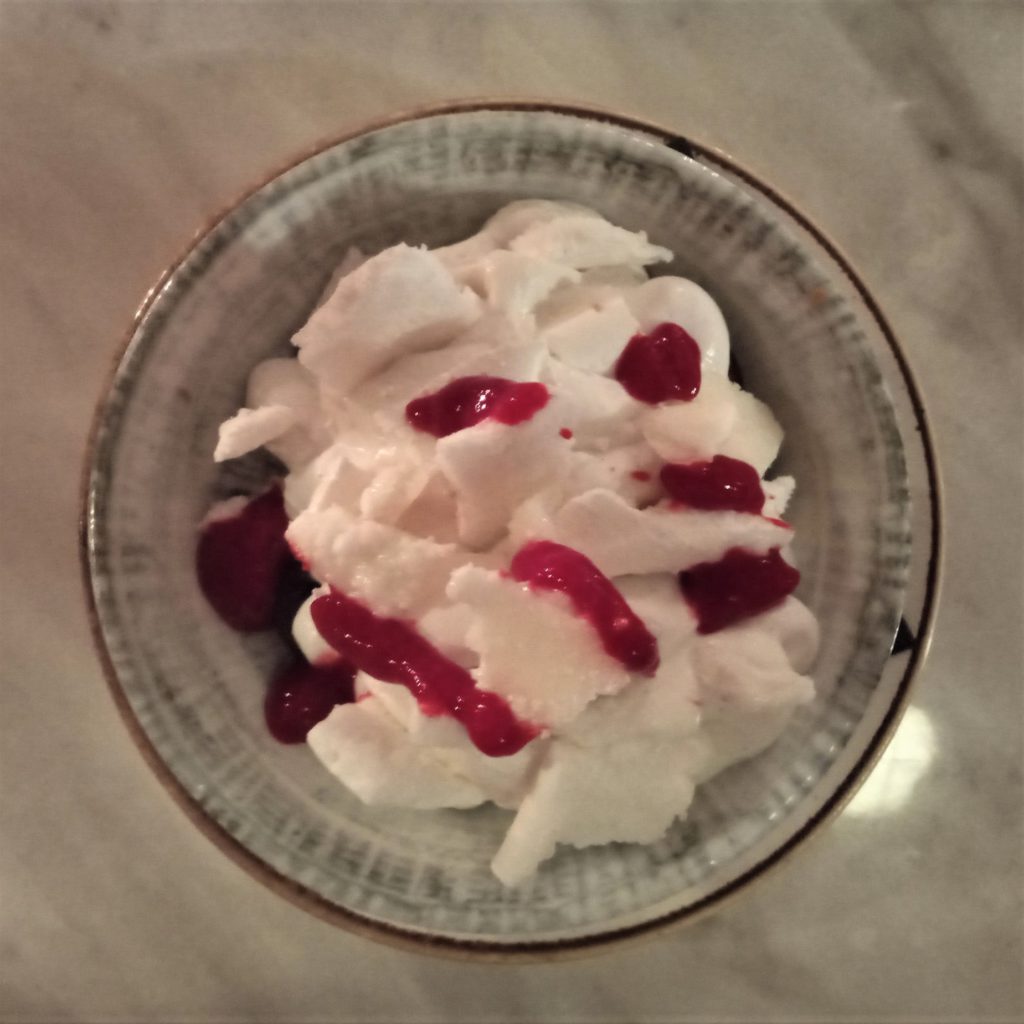 Jones & Sons is a classic British restaurant and a classy cocktail bar to which we'd return any day of the week, but come the weekend it is the place to be, with their famous Bottomless Brunch filling up weeks in advance, and their legendary Sunday roast featuring in numerous 'top 10' lists. If we can remember how to find it, we'll be back.
Jones & Sons, Stamford Works, 3 Gillett St, London N16 8JH
Tel :02072411211
Website: Jones & Sons
Kitchen Opening Hours
Tuesday-Friday 6pm – 10pm
Saturday 11am – 5pm/7pm-10pm
Sunday 11am – 6pm
The bar on Sundays stays open till 8pm
@jones.and.sons