My desert island food choice would once have been Italian, but over the years I've fallen for Spain. It isn't just the jamon, although I could die happy of an overdose of Pata Negra, it's the whole eating culture.

But while most UK towns have an Italian deli, Spanish specialist shops are thinner on the ground. If you want a proper Morcilla de Burgos Rios, black pudding with rice, for example you're going to be out of luck in the supermarket.Basco has that and more. Tinned anchovies and tuna? They have the best brands such as Arroyabe and Herpac. Not cheap, good anchovies and tuna never are, but oh so worth it.

Olives are big, especially El Gordal 'the fat one', a big meaty olive ideal for stuffing and serving as tapas, plus Manzanilla classic cocktail olives and the delicious black Hojiblanca olives from Andulacia.

Chorizo comes sliced or whole, spicy or not, the real deal and not the pale imitation you find on the shelves here. Jamons, of course like Montanegra Iberico Bellota Lomo, plus lesser known meats like Botifarra and Sobrasada.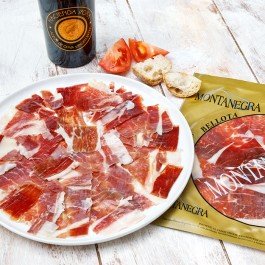 "The pigs are fed on a quality diet of acorns, which gives the meat its unique tase. This ham comes from Dehesa de Extremadura region which makes it stand out as the highest possible quality."

And you'll want to stock up on pimenton, piquillo peppers, saffron, beans, sea salt and vinegar. Essentials to have in any store cupboard.

There are lots of drinks too; beers, wines, ( I recommend the Txakoli Zudugarai white made near foodie Disneyland San Sebastian – like Asturian Cider you pour it from height to give it some fizz) and even gin.

Plus there are hampers for you to dive into, or to perhaps generously send someone suffering in lockdown?

There are even paella pans, for you to get your rice properly on.

The choice is yours.